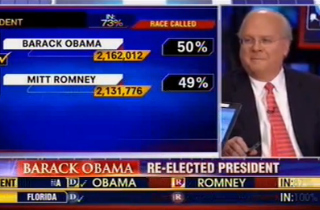 After Fox News called the election in favor of President Barack Obama, Fox contributor Karl Rove challenged their decision to give Ohio to the president, causing chaos on-air as hosts Bret Baier and Megyn Kelly scrambled to refute Rove's reluctance to believe the Fox News "decision desk's" call in favor of Obama.
"We have got to be careful about calling things when we have like 991 votes separating the two candidates and a quarter of the vote yet to count," Rove warned the Fox anchors, much to their dismay. "Even if they have made it on the basis of select precincts, I would be very careful about intruding in this process."
After a brief pause, Baier, Kelly and Chris Wallace joked about how "awkward" Rove has just made the entire situation, with Baier deadpanning: "It's great to have you guys here."
Watch Rove's challenge below, via Fox:

Several minutes later, Kelly took the initiative to head over to the "Decision Desk" and hear from the network's own number crunchers that Rove is wrong and Ohio most certainly belongs to President Obama in the 2012 election. She walked the cameras over to a conference room down the hall, and asked several analysts to confirm Fox's surefire decision to call the election for Obama.
"You tell me whether you stand by your call in Ohio, given the doubts Karl Rove just raised," she said.
"We are actually quite comfortable with the call in Ohio," they responded. "We're quite comfortable with the idea that Obama will carry Ohio."
Chris Stierwald added: "There just aren't enough Republican votes yet for Mitt Romney to get there."
When Kelly asked the two analysts what percentage certainty they have that Obama has won, they responded: "99.95%"
Watch Kelly go to the "Decision Desk" and refute Rove's claims below, via Fox:
— —
>>
Follow Andrew Kirell (@AndrewKirell) on Twitter
Have a tip we should know? tips@mediaite.com