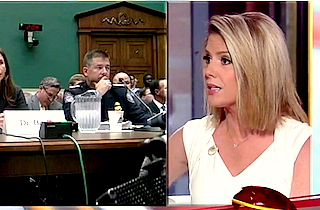 Fox News contributor Kirsten Powers rolled her eyes at her fellow Outnumbered panelists Thursday, arguing claims the country was on the cusp of an Ebola outbreak and that Democrats were demagoguing the issue were both nonsense.
Rather, it was the GOP that was politicizing the issue, Powers said. When co-host Andrea Tantaros countered that Democrats have released ads arguing that GOP spending cuts to infectious disease research, Powers responded, "That's true. NIH has seen cuts. That's a fact."
NIH head Dr. Francis Collins alleged to HuffPost's Sam Stein earlier this week that research teams would be much further along on an Ebola vaccine were it not for a decade of stagnant funding, a sentiment echoed in Democratic-leaning ads with titles like "Republican Cuts Kill." Washington Post's Glenn Kessler rebuked the claim that the GOP was solely responsible for the flatlining budget.
"For the record, I'm on Team Shep on this," Powers added, referring to fellow Fox host Shep Smith's comments yesterday that what Ebola panic there was in the U.S. was being ginned up by hyperbolic media coverage. "I think we're having a lot of hysteria over this. Did the CDC mishandle it? Absolutely. Should they be held accountable for it? Absolutely. But we are not seeing an epidemic. We are not even in the threat of an epidemic."
The show was then interrupted by a House hearing.
Watch the clip below, via Fox News:
[Image via screengrab]
——
>> Follow Evan McMurry (@evanmcmurry) on Twitter
Have a tip we should know? tips@mediaite.com