Lawrence O'Donnell and Alan Dershowitz Explode over Whether 'France Reaped What They Sowed'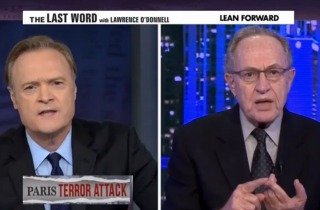 MSNBC host Lawrence O'Donnell and Professor Alan Dershowitz came to verbal blows Thursday evening during a conversation about what societal factors are to blame for the terrorist killing of 12 people Wednesday morning at the Charlie Hebdo offices in Paris.
Towards the end of their discussion, O'Donnell pivoted to the Paris shootings, mentioning that his guest had earlier appeared on NewsmaxTV for a segment that has been billed online as "Alan Dershowitz: France reaped what they sowed in the Paris attack."
Dershowitz denied that is what he said, but O'Donnell confronted him with an actual quotation about France: "They reward every terrorist." From there, the pair got into a heated argument.
"It's a crazy thing to say," the MSNBC host declared in a clip first flagged by BreitbartTV. "They do not reward every terrorist do you want to say they've rewarded a few terrorists? Are you really going to sit here and say they rewarded every terrorist?"
"Virtually every terrorist who has been convicted and sent to prison in Paris has either gotten out," the law professor pushed back. "[France] voted for Palestinian statehood for a country that was built on terrorism. They have done everything to avoid joining the fight on terrorism. I feel terrible for these people."
That set O'Donnell off further, as he noted that many countries have supported such statehood. "So most countries in the world are Alan Dershowitz bad countries?" he asked.
Dershowitz replied: "Terrorism is rewarded. Europe is part of the problem. France is part of the problem. I feel terribly sorry for the victims, but France is part of the problem. Maybe this will give them a wake-up call and have them join the war against terrorism rather than becoming part of the problem of facilitating and rewarding terrorism."
O'Donnell warned his guest in return: "I will advise you, just for the credibility of your own judgment on anything else you ever say publicly, don't ever say that France rewards every terrorist."
Through the crosstalk and shouting, Dershowitz said, "Sir, I don't need your advice on this issue," just before the segment ended due to time constraints. O'Donnell expressed his regret that the law professor had failed to apologize for his statements.
Watch the clip below, via MSNBC:
[Image via screengrab/MSNBC]
— —
Have a tip we should know? tips@mediaite.com