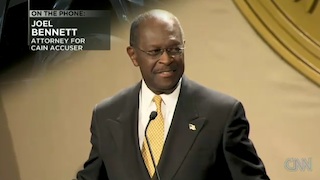 Yesterday, a story broke that one of the women who accused Herman Cain of sexual harassment during his time with the National Restaurant Association wanted that organization to lift the non-disclosure agreement from the resulting settlement so that she could now speak about what had happened. Last night on Anderson Cooper 360º, the woman's lawyer, Joel P. Bennett clarified his earlier statements, saying that the woman was "mulling over" whether or not she wants to speak out and that she is "very upset" with Cain's response to the story.
Bennett spoke to a CNN panel via the phone and described the woman's feelings:
"Naturally, she's been very upset about all of this since the story broke last Sunday because Mr. Cain has been giving the impression that she's someone who came out and made false allegations and that's certainly not true. She's still deciding, once we hear from the Restaurant Association what she'll do if they waive the confidentiality. Until they do that, she's not going to speak out."
While Bennett couldn't speak in any specifics (both because of his client's privacy and because he hadn't looked at the physical settlement in many years), he did let loose a number of interesting details. Here are a few:
To the best of his knowledge, it was actually someone from the National Restaurant Association who leaked the story to Politico.
After being asked (rather snidely by Jeffrey Toobin in this writer's opinion) if his client was politically active or if she was involved in the Obama campaign, Bennett revealed that she was a "lifelong civil servant" and, as an employee of the federal government, was not allowed to have clear political feelings.
In regard to Cain's claims that there was an investigation done by the Association at the time and that they found no real grounds for the complaint, Bennett said he didn't remember any investigation and, if there were, it would be highly unusual for it to be done by the Association since, at the time, Cain was in charge and all the employees relied on him for their livelihoods.
The decision on the agreement should be made in the next few days.
Watch the interview from CNN below. It is broken up into two parts.
Have a tip we should know? [email protected]