Lindsey Graham Defends Call To Boycott Russia Olympics On Fox: 'Look What Hitler Did In 1936!'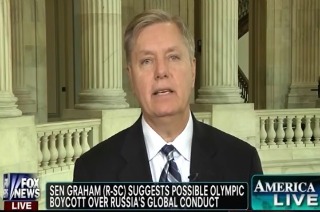 Sen. Lindsey Graham (R-SC) appeared on Fox News Channel on Thursday to defend his call for the United State to boycott the 2014 Winter Olympics scheduled to be held in the Russian city of Sochi. Graham said America should sit this Olympics out over Moscow's facilitating NSA leaker Edward Snowden's requests for political asylum. The South Carolina senator told Fox News anchor Alisyn Camerota that the U.S. should not be helping Russia makeover its international image by participating in the Olympics. "Look what Hitler did in 1936," he exclaimed.

"You don't want to punish athletes – they've done nothing wrong – but do I really want to reward [Russian President Vladimir] Putin if he continues to do what he's doing?" Graham asked.
He said that Putin has, along with Iran, has aided Syrian President Bashar al-Assad continue in his bloody prosecution of the Syrian civil war which is increasing instability in the region. Now, Putin is flirting with providing Snowden with political asylum.
"Should we reward this country by allowing him to have the propaganda coup of hosting the Olympics?" Graham asked.
"How does that hurt Putin?" Camerota asked.
"I think it would really matter to the Russians," he replied. "Should we have given Hitler the Olympics in 1936?"
"I'm not suggesting Russia is Nazi Germany," Graham clarified. "Alisyn, would you go to the Olympic games in Iran?"
"Look what Hitler did in 1936," Graham added. "They sold to the world something they were not. Like it or not, the Olympic Games are used by the host country to sell themselves."
"Should we be part of selling Russia for Putin?" he asked again. "If he gives Snowden asylum, should we give our Good Housekeeping Seal of Approval on the games that he will be hosting?"
"I don't want to stop the Olympics, I want to stop Putin," Graham concluded.
Watch the exchange below via Fox News Channel:
> >Follow Noah Rothman (@NoahCRothman) on Twitter
Have a tip we should know? tips@mediaite.com