Live From N*****head: Sarah Silverman Visits Maddow For Her Take On Rick Perry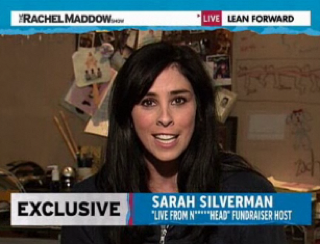 It only took a few weeks for Rick Perry to commit a whole new set of gaffes to make the media forget about "N*ggerhead," the name painted on a rock in a ranch he used to hunt at. Not everyone has forgotten, though– Sarah Silverman, for one, is taking the opportunity to dedicate an entire stand-up show (titled "Live From N*ggerhead," naturally) to the affair, and give the proceeds to the NAACP. She spoke to Rachel Maddow last night to explain her project and why she just can't let go.
Maddow explained that she found it surprising that the story wasn't as monumental as the ordeal was insulting in her eyes, but that one possible explanation was that "it's uncomfortable to talk about." After all, it involved everyone in the news repeated using euphemisms and censoring themselves, seemingly embarrassed to have to even cover the story. Luckily, Silverman is not one to be easily embarrassed, and was more than happy to take the mantle.
RELATED: Don Lemon To CNN Panel: How Bad Is 'N*ggerhead' Story For Perry Campaign?
"When racism appears– when it's not just a gas in the air– it's important to take the opportunity and point at it," Silverman noted, which is why she had decided to use the controversy to headline a fundraiser. As for the story going away so quickly, Silverman blamed the media for letting it slip by, calling it one of the major let-downs of a more diverse news community: "I miss the Jew-run banks and the media; I don't think it would've been let go so easily."
RELATED: WaPo Report Ties Rick Perry To 'N*ggerhead' Hunting Camp That Candidate Has Denounced
Given that her entire fundraiser was based on calling out racism in the Republican Party, Maddow took the opportunity to bring up the most obvious racial issue in the party this year: the rise of Herman Cain. Did that at all impact Silverman's perspective? Not at all. "I'll tell you why he's ahead," she explained. "It's like when terrible, horribly made commercials are on the air… they say, 'Hey, you're talking about it.'"
The segment via MSNBC below:

Have a tip we should know? tips@mediaite.com