Mark Levin Rants Against Fox's Gutfeld, Perino, Rove for Doubting 'Defund Obamacare' Movement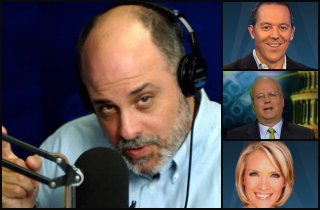 On Thursday evening, conservative radio host Mark Levin went on a tirade against several Fox News personalities who he believes toe the "establishment Republican" line of doubting the judiciousness of pushing for an immediate defunding of ObamaCare.
Referring to a segment of Fox's talk show The Five, Levin railed against co-hosts Greg Gutfeld and Dana Perino for deeming the movement to defund the healthcare law as "not going to happen" and a "bad strategy" for the GOP.
"Really?!" Levin shouted. "When I was in the 1976 Ronald Reagan campaign, we were told we couldn't win and we didn't win, but we came within an eyelash and it set the stage for 1980. And we did win!"
He then tore into Gutfeld: "[He] is getting more and more annoying, quite frankly." And then set his sights on Perino and Fox contributor Karl Rove:
"I say this with all due respect, because Fox is my favorite cable network, Karl Rove and Dana Perino, it's like they're endlessly on all the programs there, hawking the establishment Republican position. Where are all the Reaganites?!

"[…] Your record sucks, Karl Rove! Why are we going to listen to you?! 'I've got my whiteboard.' Well, shove your whiteboard!"
"Conservatives are looking for leaders in media," the radio host lamented, "people who are going to advance the cause." He cited Neil Cavuto and Sean Hannity as the two Fox hosts whom he can trust on this.
As for his "buddy" Eric Bolling, Levin said, he was bashed by "the two gigglers to his right" (Perino and Gutfeld) when he attempted to defend the defund ObamaCare movement.
"I am hopeful, because I adore the FNC and the man who runs it and so forth, that Fox is not lurching in a direction that is also problematic," Levin concluded. "Time to stand up, boys! If we don't stand up, who will? We're going to lose the country."
Listen below:
[h/t
MofoPolitics
]
[
images via screengrab
]
— —
>> Follow Andrew Kirell (@AndrewKirell) on Twitter
Have a tip we should know? tips@mediaite.com