McCain On Syria: 'Should've Intervened Long Ago,' Among 'Shameful Chapters In American History'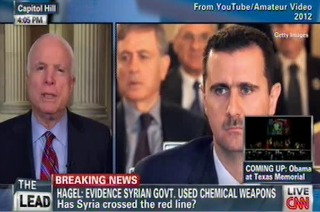 Addressing the news that the White House had confirmed that Syrian President Bashar al-Assad used chemical weapons that nation's ongoing Civil War, Sen. John McCain (R-AZ) told CNN host Jake Tapper that the United States should have intervened in that two-year-old conflict long ago. He added that it was one of the most shameful episodes in American history that the U.S. allowed the Syrian dictator to kill an estimated 70,000 of his own citizens.

RELATED: Defense Secretary Hagel: Syrian Regime Has Used Chemical Weapons
Tapper asked McCain if President Barack Obama's decision to confirm the use of chemical weapons and consult with allies before taking action to intercede in the Syrian crisis was appropriate.
McCain said that the Obama administration's actions were a "disappointment" but not a surprise. "The president has not wanted to engage in Syria in any way – in any meaningful way – for a couple of years while 70 to 80,000 people have been slaughtered, millions of refugees, et cetera," he said.
McCain added that many of America's allies had already concluded definitively that the Syrian army had used chemical weapons. He said that the U.S. should be prepared to arm the Syrian rebels and have a plan to insert assets into the country to secure and stabilize any unused weapons of mass destruction when the regime falls.
"Is this not just prudence?" Tapper asked.
"We should have intervened long ago whether Bashar Assad was using [chemical weapons] or not," McCain replied. "It's been one of the most shameful chapters in American history."
Watch the clip below via CNN:
> >Follow Noah Rothman (@NoahCRothman) on Twitter
Have a tip we should know? tips@mediaite.com