Media Rush To Condemn Fox For Airing 16-Year-Old Rape Victim's Name, But Neglect That CNN And MSNBC Did It Too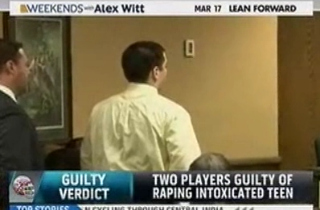 Raw Story published a piece earlier this afternoon that has set off an Internet furor: Fox News aired the uncensored name of the 16-year-old Steubenville, Ohio, rape victim during its broadcast this morning.
Many other outlets picked up on the story, including Huffington Post, Jezebel, New York magazine, ThinkProgress, and AlterNet. But all the reporting outlets seemed to have missed one key part of the story: CNN, MSNBC, and a CBS local affiliate all also took part in airing the rape victim's name. And they did it before Fox ever did.
Common practice among news outlets is to not publish the names of minors alleging sexual abuse or rape so as to protect their identity and prevent them from becoming identifiable to the public.
But during the 9 a.m. hour of America's Newsroom, Fox News aired the tape in which convicted 17-year-old rapist Trent Mays apologizes to the victim and her family. And they mistakenly ran the female victim's name without censoring it.
"I would truly like to apologize to [redacted], her family, my family and the community," Mays said on camera. "No picture should have been sent around, let alone even taken." Watch below:
Picking up on Raw Story's piece on how "Fox News airs name of 16-year-old Steubenville rape victim" this morning, Jezebel ran the most blaring headline of them all, claiming that Fox "Manges to Out-Awful Everyone" by airing the victim's name.
Not publishing a rape victim's name in the press is an ethical boundary that has long been respected, and there's no excuse for Fox letting slip an uncensored version of Mays' apology. But press outlets should have done their due diligence before jumping to condemn Fox News alone. Especially when they weren't the first to break the rule.
On Sunday, during the 11:00 a.m. hour of State of the Union, CNN aired the Mays apology tape and neglected to redact the victim's name.
And also on Sunday, during the noon hour of Weekends with Alex Witt, MSNBC aired the uncensored version of Mays' apology, including the victim's name.
Huffington Post quickly updated their headline after realizing CNN and MSNBC committed the same error a day earlier.
UPDATE: ThinkProgress updated their piece with a blurb about MSNBC's error.
UPDATE: RawStory updated their post with a note about CNN and MSNBC's coverage at the bottom. No change to headline was made.
Watch the CNN and MSNBC airings below:
— —
>> Follow Andrew Kirell (@AndrewKirell) on Twitter
Have a tip we should know? tips@mediaite.com