Mediaite Historical Society Presents: '90s Conan O'Brien Tells Jon Stewart About His White House Visit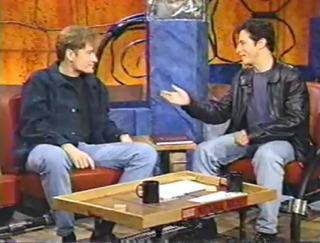 Here at Mediaite, we believe we have a responsibility of passing down our colorful history to the next generation. We do it for the children. So as we approach the second anniversary of our founding, we will be regularly taking a look back at the moments that made us laugh, cry, and throw things at our television set– but probably just made us roll our eyes at the time. Herein is the fourth installment of Mediaite Historical Society Presents:
The media's first full week out of the clutches of Anthony Weiner's lewd Twitter messages created a gaping hole in the news cycle, through which none other than Daily Show host Jon Stewart eagerly climbed through. Stewart's adamant refusal to acknowledge himself as a political presence took the spotlight this week, both in his interview with Chris Wallace on Fox News Sunday last week, and later when fact-checking website Politifact corrected his false claim that Fox News' viewers are consistently the most misinformed. Stewart's claim arose from the rest of his career– except, of course, that time he led a political rally in Washington, D.C.– hosting programs and doing stand-up comedy, employing the rest of his resumé as proof that he is currently a benign clown with no political influence whatsoever.
Whatever his status may be today, there was a time in which Stewart's claim to being merely a court jester was indisputable, way back when he was a fixture on the half-music, half-talk, pre-reality MTV. During his tenure as host of The Jon Stewart Show, the idea of him even entering the White House was a punchline in and of itself– a punchline early and often employed in this 1994 interview with gangly underground talk show host Conan O'Brien. O'Brien tells Stewart of his visit to the White House for an Irish American event, which to his was disappointing for many reasons. Besides the "fat-headed Irish people" that made the event feel like a "family reunion," O'Brien's dream of saying something "clever" to the President melted before the suave magic of Bill Clinton, who turned O'Brien into too much of a nerd to make that Whitewater joke he was so desperately longing to boast about. (Yes, Whitewater was the defining controversy of the Clinton Administration in 1994. Remember that?)
The most telling thing about Jon Stewart's career path at the time? His response to O'Brien getting an invite to the White House was "while you were at the White House, I think I was hosting The Grind." My, what a difference a decade and a half makes.
Watch the old MTV Jon Stewart Show interview below:

Have a tip we should know? tips@mediaite.com