Mediaite Profile: Fox & Friends' Rising Star Pete Hegseth Is Not a Journalist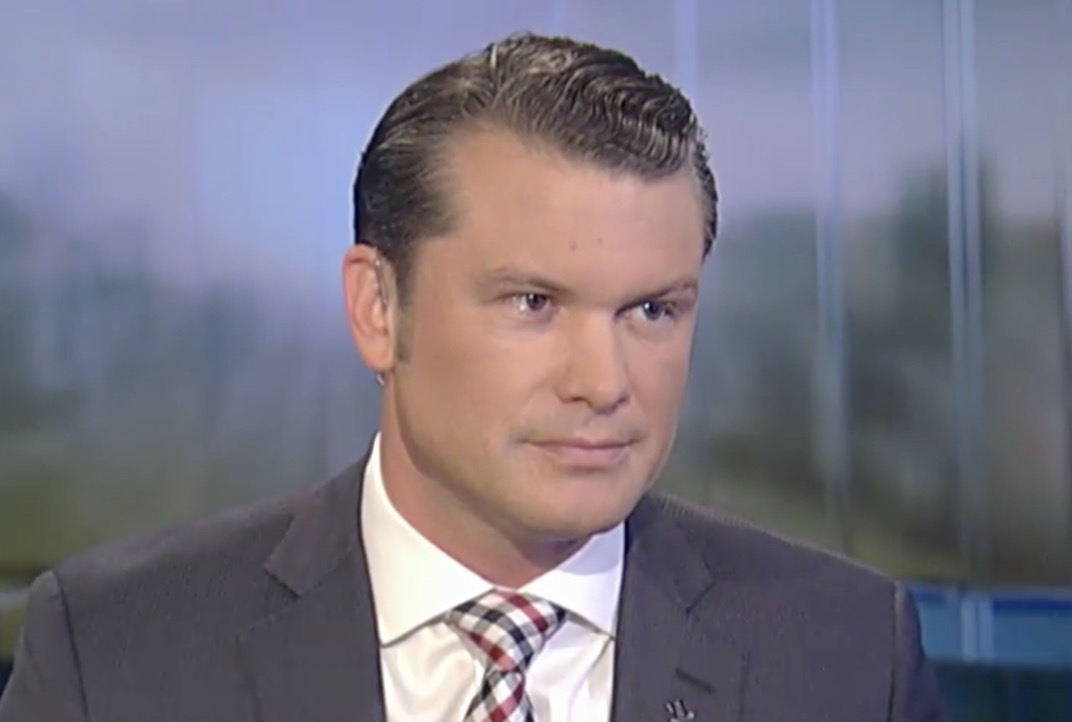 As far as morning cable news is concerned, 2017 is the year of Fox & Friends. The show's producers may not have known it at the time, but when they signed then-reality star Donald Trump up for a weekly appearance way back in 2011 — dubbed 'Mondays With Trump' — they were paving the way for perhaps the most tele-friendly campaign-to-White House saga in U.S. history.
And now that he's in the White House, President Trump has not forgotten about his friends at Fox & Friends. Since his election, Trump has tweeted about Fox & Friends more than 100 times, and has appeared for interviews on the show more than any other cable news program. And that's been a boon for not just the program's relevance (The New York Times has called it the "most powerful TV show in America") but its ratings as well. It's the top morning show on cable news — by far — and is having its most-watched year in history.
Arguably no one has ridden the surging Fox & Friends wave, from cable news obscurity to the top of the president's favorite talking heads, more tactfully than Pete Hegseth. A Minnesota native, Hegseth went on from Princeton to serve as a guard in Guantanamo Bay, before embarking on a career of decorated service in the Iraq and Afghanistan Wars. After returning to the U.S., Hegseth directed the conservative advocacy group Vets for Freedom, served as the CEO of Concerned Vets for America, and after squeezing in graduate studies at Harvard's Kennedy School, landed a gig as a military analyst at Fox News in 2014.
In a recent interview with Mediaite, Hegseth said that he never planned on hosting a television show. But after making weekly appearances as a guest commentator on Fox News, he was asked by producers if "he ever thought about asking questions instead of answering them."
And that question is what catapulted Hegseth to where he is today: a co-host of Fox & Friends Weekend, guest co-host of the weekday edition, one of President Donald Trump's go-to interviews — and a diner in the East Wing of the White House.
There's a reason Hegseth is one of Trump's favorites at the network. Not only does the veteran look like he walked straight out of Jarhead central casting — an advantage with our famously image-obsessed president — but Hegseth is also fiercely defensive of the administration and derisive of those who oppose it.
But it wasn't always that way. Like many conservatives who have reluctantly converted to the Church of Trumpism, Hegseth was once critical of candidate Trump's sloppy foreign policy proclamations and flailing rhetoric. In an appearance on Megyn Kelly's Fox News program in 2015, for example, Hegseth called Trump's comments on Afghanistan "unacceptable," and said they showed "a shallowness in an understanding of that region and the implication of words on the international stage."
You would be pressed to hear Hegseth offer such a critique of Trump from his hosting perch on the Fox & Friends "curvy couch" in 2017. When I ask Hegseth what about Trump has changed, he described a "Trump conversion moment" — when he disposed of his conventional beliefs and came to see things from Trump's point of view.
"What has changed is the way that I understand this president and the way he views the world," Hegseth said. He explained that while he initially bristled at Trump's unconventional foreign policy views, Hegseth soon realized that he "was looking at so many things, domestically and internationally, through an old lens." Since his conversion, he's been fully on board with the Trump agenda.
Those newly discovered MAGAtastic bonafides, paired with an impressive service career, made Hegseth a top contender to head up the Department of Veterans Affairs, a post he interviewed thrice for — though the nomination was ultimately handed to consensus pick David Shulkin. Nonetheless, like many Trump-allies who have either remained outside the White House or been jettisoned from it, Hegseth enjoys the president's attention. The morning anchor even dined recently in the East Wing of the White House with Trump, alongside his partner, Jennifer Rauchet, formerly the executive producer of Fox & Friends.
Such proximity to the president from the morning host of a Fox News show is enough to raise a few eyebrows — but Hegseth is adamant that he's not a journalist. (Unlike fellow Fox & Friendser Ainsley Earhardt, who said in a recent interview said she wanted "to ask tough questions" of the administration.) "I don't consider myself a journalist," Hegseth tells me. "I give opinion."
That statement helps to better understand Hegseth's latest interview with Trump, which was panned by media critics for its obsequious and flattering nature. As Republican attempts to replace Obamacare imploded for the umpteenth time, Hegseth applauded Trump for his attacks on NFL-anthem protesters.
He also let our famously truth-challenged president slide on a number of inaccurate statements, including the twice-repeated whopper that Sen. Thad Cochran couldn't vote for the doomed GOP health care bill because he was in the hospital. It was a replay, of sorts, of Hegseth's June interview in which he gently quizzed Trump on whether his biggest opponent was "Democrats resisting," the "fake news media" or "deep-state leaks."
Hegseth's response to the media criticism?
"Yeah, I saw all that, and I don't care about it at all," he told me. "Matter of fact, I love it, let them go nuts."
Hegseth went on to explain the difference between himself and what he refers to as "so-called journalists": "I don't stand up there and say 'I'm an independent journalist without independent opinions.'"
"I'm a conservative. I love this country. I have a certain point of view. I'm going to ask the sitting President of the United States a question, and then I'm going to let him answer."
And that's what his viewers want. Even before Trump's presidency, Fox & Friends delivered an early morning cocktail of light cultural news and outrage-inducing political comfort food palatable to the type of conservative who grows red in the face at the sight of kneeling NFL players.
The difference is that now the president is watching the show. And tweeting about it.
Fox News's flagship breakfast program now often acts as the assignment editor for the day's White House policy, with a well-documented feedback loop established: Fox & Friends covers a news item; Trump parrots the program's commentary to his 42.5 million followers, adding his usual rhetorical flourishes; Fox & Friends returns the favor by then covering the president's tweets. As White House reporters scramble to figure out what the hell is going on, the media and policy narrative for the day is set.
As such, very often the fodder for Trump's daily tweets comes not from intelligence briefings — but from an infotainment morning show hosted by anchors who flout their disdain for "so-called journalists" and proudly proclaim their ideological bias. And that can be problematic.
A particularly troubling case came in July when on Fox & Friends Weekend Hegseth slammed The New York Times while covering a report — based on misleading comments by Gen. Tony Thomas — that blamed a 2015 story from the paper for the escape of Islamic State leader Abu Bakr al-Baghdadi.
Within minutes of the Fox & Friends segment airing, Trump had sent out a tweet bashing the "Failing New York Times" for putting "Their sick agenda over National Security."
In a subsequent segment responding to Trump's tweet, Hegseth declared: "We would've had al-Baghdadi based on the intelligence we had, except someone leaked information to the failing New York Times in 2015."
"It's not just failing in its credibility," Hegseth said of the Times. "It's failing our country."
(It is clear to anyone who has spent a weekend morning watching Hegseth that he is no fan of the Times. When I asked him about this, he proudly revealed that — à la Trump – he writes "Failing" before "New York Times" on the front page of his edition before cracking it open each morning.)
As it turned out, the 2015 Times story, which supposedly made use of leaked intelligence, was actually based on information made public by the Pentagon weeks prior to publication. In a lengthy statement, the Times demanded "an on-air apology and tweet…in regards to a malicious and inaccurate segment," from Fox News, and a back and forth ensued.
On Monday's episode of Fox & Friends, Steve Doocy gave an "update" on their coverage of the story but did not issue an apology. Trump's tweet, which was retweeted more than 20,000 times, was not deleted or corrected.
And that's part of the problem: though Hegseth does not consider himself a journalist, Trump clearly sees Fox & Friends as a viable source of news, and often congratulates its hosts for their "reporting." But the show falls under Fox News's opinion programming department, which allows it to operate outside of the journalistic standards that dictate the network's hard news division.
When I asked whether he thinks it good that the president gets his news from a morning breakfast show, Hegseth quipped, "I'm glad he's not watching CNN."
"Listen, why should we deride the fact that the President enjoys a particular show and may agree with the opinions of the show?" he added.
One answer, critics point out, is that Hegseth's show devotes inordinate attention to the culture wars. And with Trump watching, those culture wars become the administration's focus. Case in point: it took Trump 12 days to respond to the deaths of four American servicemen in Niger. In those 12 days, Trump tweeted about NFL anthem protests five times and repeatedly bashed players in interviews. He also blasted out 17 tweets accusing various media outlets of "fake news."
I pressed whether Fox & Friends' focus on the culture wars distracts the president from more substantial issues, but Hegseth was adamant that a focus on those issues helped Trump to win the White House — and equally, Fox & Friends to win the ratings wars.
"I think those issues are actually far more important than people think, and in some ways, Trump's presidency is as much cultural as it is policy," Hegseth said. "We think those are issues that really matter to people. And it's reflected in the ratings, and it's why Fox & Friends smashes everybody else."
But Hegseth's contention that Fox & Friends cover the issues that really matter to people could be amended for accuracy: Fox & Friends cover the issues that matter to Trump's base. Where the rest of the media is keen to focus on the Trump administration's serial calamities, on Fox & Friends the focus is elsewhere (usually on Hillary Clinton). And that's part of what makes the show so successful. Not only does it provide a comforting alternate reality for the president, but it allows the same safe space for his fervent supporters, who also get much of their news from the show.
Perhaps the most obvious and harped-on dissonance in Fox & Friends' news coverage comes to Trump's campaign ties to Russia, the most recent example being the show's sparse coverage of the indictment of former Trump campaign chairman Paul Manafort.
For Hegseth, this is all a matter of being "fair & balanced," and providing a counterweight to the wall-to-wall coverage the Russia investigation is granted on CNN and MSNBC.
Instead of smothering viewers with Russia-probe-speculation, Hegseth argues that Fox & Friends covers "things that really matter," which is a common refrain on the show. He makes sure to round off that point with a very Fox & Friends-ian flourish: "And, the truth is, we've exposed that the real Russian collusion actually likely happened on the other side."
It's not clear the hard news division over at Fox agrees. A recent report by CNN's Oliver Darcy quoted a number of anonymous Fox News staffers who said they were humiliated by the network's coverage of the indictments, with one even telling Darcy that "Fox feels like an extension of the Trump White House."
When I asked Hegseth about this, he was careful not take aim at his network's hard news division, and countered with a deflection: "There's an even stronger argument to be made that, as Steve Bannon put it, the media is the opposition party — they are literally in lockstep with Democrats."
Since we're on the topic of CNN, I ask Hegseth if he agrees with Trump's attacks on major news outlets, and whether he thinks his labeling outlets like The New York Times "fake news" is productive.
"I don't find it counterproductive," he replied. "I find it to be the truth."
After Hegseth spent some time deriding "the fake news media," I reminded him that perhaps the most infamously fabricated story of the year originated from Fox News.
I was referring, of course, to the FoxNews.com story that boosted the conspiracy theory that slain DNC staffer Seth Rich was murdered because of supposed ties to Wikileaks. The report made use of fabricated quotes and was amplified by coverage across the network's opinion arm, including on Fox & Friends. That's until it was debunked and later retracted by the network.
When I brought up the Seth Rich story, Hegseth was quick to note that his "fake news" comments do not apply to Fox News reporters.
"People can make mistakes, too. When people acknowledge that there's a mistake, I think that's a good thing."
Eventually, Hegseth and I agreed that "not all of [the mainstream media] is fake news," though he contended that "too much of it is." But not Fox News.
"What I'll tell you, all of my comments about journalism and the news do not — I except out Fox News Channel," he said. "I think our journalists are really committed to doing the very best that they can with the highest of standards. When I talk about journalists, I'm not talking about them."
It's not clear what distinguishes Fox News journalists from their competitors. Either way, Hegseth already sees Trump's "exposure of the fake news media, of the left wing media" as one of the president's lasting and most satisfying legacies. Hegseth is also one of the few pundits in America to wholeheartedly embrace Trump's early morning Twitter habits, which might, after all, be the trick to surviving the next three years.
"I love the fact that it must drive liberals nuts that they have to report what he tweets," Hegseth told me. "Every single morning."
When I informed him that as Mediaite's morning editor, it often comes to me to report on Trump's morning tweet-storms, Hegseth smiled.
"I relish that anguish."
[image via screengrab]
—
Follow Aidan McLaughlin (@aidnmclaughlin) on Twitter
Have a tip we should know? tips@mediaite.com
Aidan McLaughlin - Editor in Chief