Mediaite's AJ Delgado To Sean Hannity: Black Conservatives Like Ben Carson Are 'A Huge Threat… To The Left'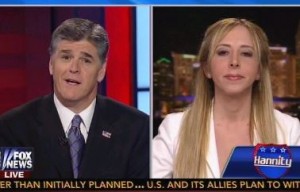 Only a day after sitting in on his radio show, AJ Delgado sat down with Sean Hannity tonight to discuss their shared thesis that liberals look down on and are attempting to stifle the speech of black conservatives. Delgado praised Hannity for being on the forefront of this issue and said that black conservatives like Carson who get in the way of liberal claims of right-wing racism pose "a huge threat… to the left."
RELATED: Mediaite's AJ Delgado Takes On Liberal Attacks Against Black Conservatives On Hannity's Radio Show
Delgado said there is "a tremendous amount of censorship" from the left aimed at black and Latino conservatives who speak out publicly, citing attacks in the 2012 campaign against Herman Cain. Hannity asked why liberals who are supposedly so sensitive to racism in the media are silent when black conservatives come under attack.
Star Parker pointed to Evangelical tendencies in the black community that may be contributing to an increasing number of black conservatives. Hannity brought up Dr. Ben Carson, whom he referred to as a success story, and which Parker said was a "threat to liberalism." She said, "their whole M.O. is to keep blacks in the mentality of slavery, dependent on them."
Delgado agreed that Carson is "a huge threat… to the left," adding that even if liberals would argue their attacks on Carson are not racially motivated, they have been saying the opposite about attacks on President Obama for years. Hannity was amused at how just the words "Chicago" or "urban" are somehow racial code words.
Watch the video below, courtesy of Fox News:
—–
Follow Josh Feldman on Twitter: @feldmaniac
Have a tip we should know? tips@mediaite.com
Josh Feldman - Senior Editor