Jehmu Greene Calls Tucker Carlson A 'Bow-Tying White Boy,' Megyn Kelly Apologizes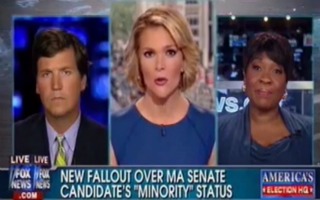 On Thursday, America Live host Megyn Kelly brought Daily Caller co-founder Tucker Carlson and Fox News contributor Jehmu Greene on to discuss Massachusetts Senate candidate Elizabeth Warren's claims to having Cherokee heritage in her background. When Greene called Carlson a "bow-tying white boy," the panel turned heated. At the end of her program, Kelly apologized for Greene's comments.

RELATED: Megyn Kelly Panel Goes Nowhere When Contributor Refuses To Debate How Much Of A Jerk Barbara Boxer Is
Kelly asked if everyone could have a laugh about Warren's claims, but Greene defended Warren saying that the current chief of the Cherokee nation is only 3 percent Cherokee. She continued, saying that Sen. Scott Brown (R-MA) and the Massachusetts's media's response to the controversy has been mildly misogynistic.
"You see Scott Brown really questioning her qualifications because he has to appeal to white, working-class voters who feel marginalized because of affirmative action," said Greene. "This smells real stank to women who do not like being called on their qualifications."
Carlson and Kelly continued to laugh off the episode. "It's so offensive and dumb," said Carlson of Warren's response to the controversy. "But leaving that aside, it does provide a window into a system that is fundamentally corrupt that awards people based on their DNA."
Greene said that questioning Warren on her qualifications, as she insists Brown has done in the wake of this controversy, "is going to appeal to folks like you, voters like you: bow-tying white boys."
Carlson took offense to Greene's characterization of him as a "bow-tying white boy," and said "you can use name calling all you like." Greene protested that she did not call anyone a name.
Kelly said that Harvard University, Warren's employer, touted her minority status when they were questioned on whether they had employed a diverse range of professors. "That is not how she got the job," said Greene. "How do you know," replied a laughing Carlson. "You don't know how she got the job. You know nothing about this."
Kelly returned at the end of her program to offer Carlson and her audience an apology for the incident:
Well, earlier in the program, Jehmu Greene was here and she called Tucker Carlson an inappropriate name. I want to apologize to Tucker and/or our viewers for that. I wasn't sure I heard what I thought I heard and now we have confirmed it was that. It was not consistent with our standards and I do apologize on behalf of the program.
Watch the segment below via Fox News Channel:
Watch the apology via Fox News Channel:
Have a tip we should know? tips@mediaite.com