Megyn Kelly Grills Obama Spokesman Over President's 'Silence' On Bill Maher's 'Hateful' Remarks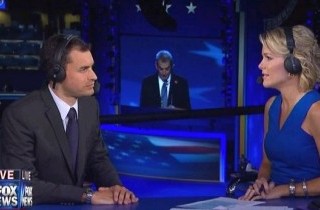 On Thursday's edition of Fox News' America Live, host Megyn Kelly grilled Obama campaign spokesman Ben LaBolt over the president's relative silence on comedian Bill Maher's hateful comments about conservative women despite willingly condemning Rush Limbaugh for his treatment of women's activist Sandra Fluke.
Kelly mentioned that during her convention speech, Fluke criticized Republican candidate Mitt Romney for his failure to condemn Limbaugh's "slut" remarks following Fluke's congressional testimony on government mandating employer coverage of birth control. She then asked LaBolt: "What about the president's silence on Bill Maher and the hateful things he has said about private citizens?"
"I think all of the president's spokespeople certainly made clear that Bill Maher crossed the line," LaBolt responded. "His comments were inappropriate and of no place in the political discourse."
"He's always been somebody willing to criticize people on his own side of the aisle," LaBolt said of the president. "He's worked towards civil discourse in politics."
"But the fact is that Romney hasn't stood up to extreme voices in his party," he continued, citing Limbaugh and controversial Maricopa County Sheriff Joe Arpaio.
Kelly then said that "he's become an issue for some on the left because he's said such vile things about so many women, and yet the president has taken a million dollars from him." She wondered why Obama hasn't done more to distance himself from Maher after he's said controversial things about women like Sarah Palin and her daughter Bristol.
"That money did not come into our campaign," LaBolt said. "It came into an organization that we're not allowed to coordinate with. But time and time again, the president has spoken out for civil discourse."
Watch below, via Fox News:
— —
>> Follow Andrew Kirell (@AndrewKirell) on Twitter
Have a tip we should know? [email protected]