Mika Brzezinski Rails Against Court Nixing Bloomberg's Soda Ban… As Scarborough Mockingly Grabs A Snack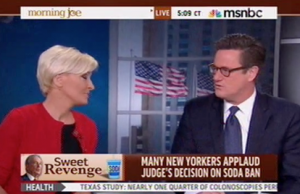 Sugar-loving New Yorkers rejoiced yesterday when a judge invalidated Mayor Michael Bloomberg's Big Bad Soda Ban — but not all of the city's residents were quite so pleased. Namely, one Mika Brzezinski, who took to railing against an industry that "poisons" children. Meanwhile, her co-host Joe Scarborough decided to further provoke her by grabbing a sugary snack.
"The American Beverage Association is relieved because they can continue to make money poisoning people," Brzezinski remarked, while recapping the story at the top of the show.
The same hurdle appeared when calorie counts were first added to menus, but he won on appeal, Steve Rattner reminded.
"Most New Yorkers agree with this judge," Scarborough asserted. "Don't tell us what to drink."
Willie Geist said while Bloomberg's intentions are good, the proposal was indeed "arbitrary" like the judge said. "It's a very difficult law to apply," he added.
"At some point, there will be, unfortunately, a clamp down on the restaurant industry and the beverage industry just much like the cigarette industry," Brzezinski argued, noting that the science is catching up with people like Bloomberg.
"Be mad at the fact that you buy this stuff, again and again and again, and these companies feel they have to produce poison for your and your children," she later urged. "
"Stop it. Stop it," Scarborough replied, not humoring her. "I think I've given you enough lead here. Reel it back in on this."
"I'm saying it's killing us, it's killing our children," she pressed. "It's liquid sugar, and sugar is poison.
Scarborough begged to differ — noting that he drank soda and ate snacks, but that he was active. "It's the lack of activity combined with people sitting on the couch instead of going out and playing all day, they're playing video games on the couch," he said.
As Brzezinski reminded that he was a football player, Scarborough retorted that she was proving his point. Bloomberg could instead direct his energy toward getting more rigorous physical education programs in schools, he suggested.
"These foods actually are toxic, the way they are made, if I may finish, I contend that you're making an incorrect statement by saying these things aren't poison," Brzezinski insisted.
"They're not poison," Scarborough repeated, then walking away from the table for a second… and coming back with a plate of munchkins.
"I bet you couldn't put those aside if I asked you to, if I challenged you to," Brzezinski told him. "Those are so full of sugar and fat and trigger a reward mechanism in the brain that makes you not able to stop at one."
Take a look, via MSNBC:

Have a tip we should know? tips@mediaite.com