George Stephanopoulos Jokes That Mitt Romney's 'Contraceptions Are Working Just Fine' Line Was The Result Of A Bet With Diane Sawyer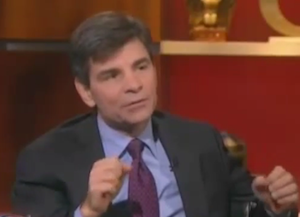 On last night's Colbert Report, Stephen Colbert got George Stephanopoulos to open up about how he got Republican presidential frontrunner Mitt Romney to give his opinion on whether states had the constitutional right to outlaw contraceptives during Saturday night's debate. Stephanopoulos revealed he had made a bet with Diane Sawyer to bait the former Massachusetts Governor to take a position.
RELATED: Romney Trips On Contraception Question: 'It's Working Just Fine, Just Leave It Alone'
"So is it difficult to be a member of the press in front of a Republican audience? " Colbert joked. "Okay, and I'll give you a specific example. You got into a section there where you were talking about contraception. You were asking questions about contraception."
"The right to privacy, contraception, right," Stephanopoulos replied.
"Why was it so important?" Colbert asked. "Why were you talking about contraception so much? Don't get me wrong, any guy sitting next to Diane Sawyer for that long at least thinks about it, but why did you make it part about the debate?
"It was about the right the privacy. One of the candidates had said he believes that the states have the right to ban contraception. I was asking Mitt Romney the same question," Stephanopoulos answered.
Colbert then played footage of the debate, and got the ABC News anchor to respond:
Colbert: OK, OK. Romney's basically saying you're a silly little child. And the audience is going, "We hate him, too." What does it feel like at that moment?
Stephanopoulos: At that moment, I'm thinking, I really want to win this bet.
Colbert: What was the bet?
Stephanopoulos: Diane Sawyer bet me that I couldn't get Mitt Romney to say "contraceptions are working just fine."
Colbert: Really?
Stephanopoulos: I won. [Laughter]
Colbert: You got him to say "contraceptions are working just fine." Even though, from the number of children he has, he has no idea how they work.
Watch Stephanopoulos share details of Sawyer's bet below via Comedy Central:

(
h/t Daily Caller
)
Have a tip we should know? tips@mediaite.com