Morning Joe Goes After Sen. Ayotte's 'Disingenuous' Confrontation With Newtown Victim's Daughter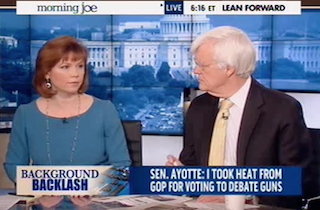 Following her vote against gun control measures, Sen. Kelly Ayotte (R-NH) was confronted by the daughter of a Newtown victim, Erica Lafferty, during a town hall on Tuesday. The incident reportedly led to Lafferty storming out of the room. Morning Joe broached the topic on Wednesday, noting Ayotte's "disingenuous" response. And the inevitable ending to the story: she'll have to find a way to support background checks.
"Kelly Ayotte — you and I have both seen a lot of congressman, a lot of congresswomen, a lot of senators that hide in their offices," Joe Scarborough remarked. "Maybe she had to do this because she lost 15 percentage points, but she had to know."
She couldn't cancel the pre-scheduled event, he said, but she also had to know that she'd get "bad clips" out of the event. "It was a bit disingenuous" for Ayotte say to she took heat from the GOP, Al Hunt argued, eliciting agreement from Scarborough. "On the key vote, Kelly Ayotte was not there."
Hunt further argued that New Hampshire isn't a staunch anti-gun control state, so she'll keep getting heat on the issue. Additionally, there are a handful of other Republicans who will also feel pressure, he said, prompting Kelly O'Donnell to note that Ayotte did publicly say she liked parts of the Manchin/Toomey background check measure.
"She's a northeast Republican. She's got to find a way there," Scarborough contended. Sen. John McCain, the panel argued, could be bridge.
"You are talking about something here that George W. Bush supported in 2000 and — he also supported an assault weapons ban in 2000 and 2004. This is not radical stuff," Scarborough argued.
Take a look, via MSNBC:

Have a tip we should know? tips@mediaite.com