Morning Joe in a Nutshell: Valerie Jarrett Kisses Everyone Before Interview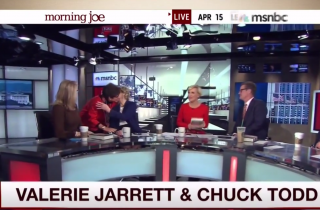 Consider the following video a perfect encapsulation of everything that is so loathsome about Beltway culture and, more specifically, the "TV for elites" gabfest that is MSNBC's Morning Joe.
While the show has slipped in terms of ratings — falling to a quarterly third-place behind CNN's New Day — its two hosts, Joe Scarborough and Mika Brzezinski, have made much ado about how important they are to important, powerful people.

At last year's Adweek Brand Genius Awards, Brzezinski told the crowd that she's proud to be "a morning mainstay for the elite." And as their viewership continues to slide, Scarborough and MSNBC's press shop push the narrative that the show remains a go-to for "influencers" in New York, D.C., and Boston.
With that in mind, here's what happened right before a commercial break on today's Morning Joe: After interviewing Cokie Roberts on her new book about — get ready to laugh — Beltway socialites, the hosts teased the appearance of their next guest, Valerie Jarrett.
The top White House adviser emerged from off-camera to gush her way around the panel full of BFFs, first kissing BBC anchor Katty Kay, and then Roberts.
As the channel is about to cut to commercial, Scarborough shouts, "Valerie, come give me a hug."
Consider, for a moment, how ridiculous this whole situation is: When you think of journalism as a pursuit, you generally think of people wanting to hold power accountable — not kiss its ass.
"They starfuck like nobody's business" was the theme of Samantha Bee's incredible performance-art tribute to the Morning Joe. And this clip, below via MSNBC, provides near-perfect corroboration of that:
— —
>> Follow Andrew Kirell (@AndrewKirell) on Twitter
Have a tip we should know? tips@mediaite.com