Morning Joe on Trump Tower Meeting: Everything You Heard from Every White House Representative Was a Lie
On Monday, Morning Joe started out with the latest information on the Trump Tower meeting, prompted by President Trump's tweet over the weekend about the meeting having been about getting dirt on Hillary Clinton.
In the clip above, they start with a montage of previous statements made by the President and many other White House officials, and then cut to Joe Scarborough, who sums it up by saying it was all lies.
"It's breathtaking. We're used to the lying, but on something this big, perhaps the most important part of this investigation," he said. "Everything you heard from every White House representative there was a lie."
"Donald Trump admitted this weekend, they were all lying," said Scarborough.
He turned to NBC's John Heilemann and asked what the consequences might be.
"I don't know what the consequences are but I know it's an indication that some folks here are not just in serious trouble, but now recognize they're in serious trouble," he said. "Last week we watched as Donald Trump went further, deeper, into the realm of public obstruction of justice when he started attacking the Mueller probe, started suggesting the Attorney General should shut it down. We now have a pretty clear explanation for why that is."
Heilemann offered that the reason that President Trump stirred it up last week, including publicly pressuring Jeff Sessions to fire Robert Mueller, is that he is now legitimately worried about consequences not just for himself, but for Donald Trump, Jr.
"The president now is looking at the Manafort trial, starting to focus on Rick Gates, starting to focus on some of the things that perhaps Michael Cohen has told investigators about this meeting," he said. "About what might have led up to it, about who might have known what about it in advance, about what the president's role might have been, about what Donald Jr's role certainly was, we already have a lot of e-mail, we have an email trail on that."
"As the president has started to recognize, and we used all the various metaphors but the walls closing in, and the facts, the actual facts starting to come closer and closer to the surface, and corroborating witnesses are starting to either come forward or to appear to be about to come forward," Heileman said listing off factors in the President's concerns.
Contrary to what he tweeted, said Heilemann, Trump is "concerned about Donald Trump Jr."
Watch the clip above, courtesy of MSNBC.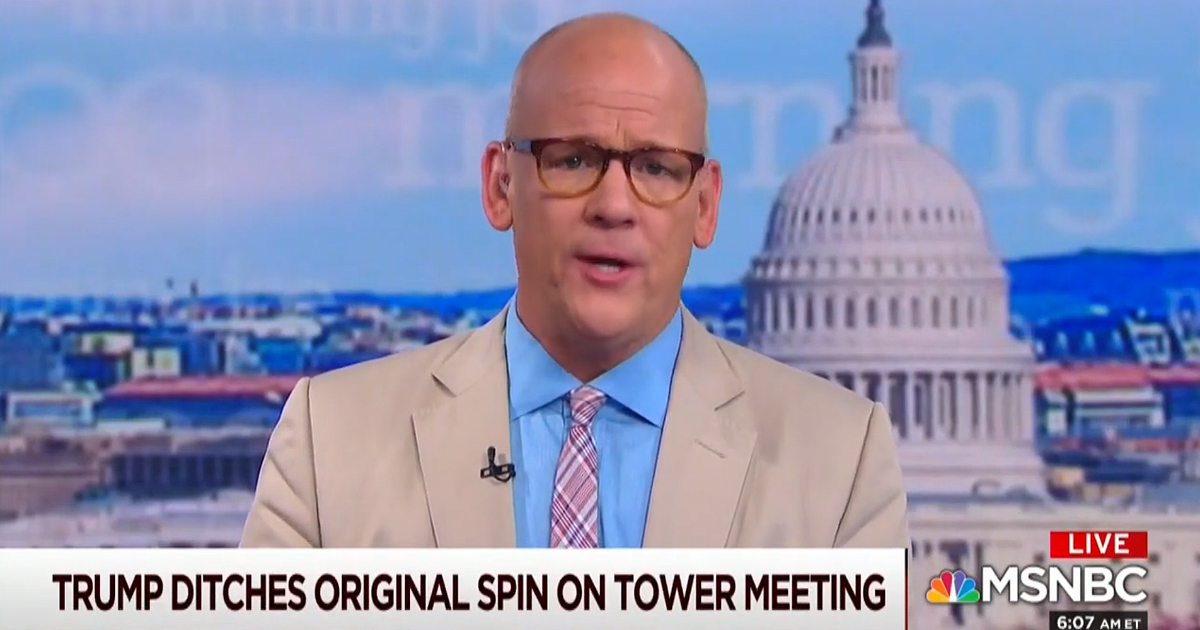 [Featured image via screengrab]
—
Follow Caleb Howe (@CalebHowe) on Twitter
Have a tip we should know? tips@mediaite.com
Caleb Howe - Contributing Editor