Morning Joe Rips Clinton's 9/11 Excuse for Wall Street Donations: 'Ridiculous,' 'So Craven'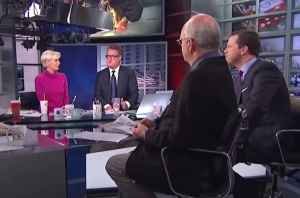 The liberals and conservatives alike on the Monday panel of MSNBC's Morning Joe tore into Hillary Clinton for invoking 9/11 when she explained why she accepted millions of donations from Wall Street Sunday's Democratic debate.
"It is, quite frankly, Hillary Clinton at her very worst," host Joe Scarborough began.
Bloomberg Politics' Mark Halperin didn't disagree. "She was hit today by the New York Times editorial board. She's going to continue to be hit by people on all sides," he said. "I suspect she's going to have to come out and clarify what she said and say she was sorry for it."
The New York Times' Nick Confessore noted that even the campaign's follow-up statement was incomprehensible. "This is the problem when candidates stick to their script and their talking points. She had an answer ready for 9/11 for another question and was asked about Wall Street and uses her 9/11 response on that question."
"It's ridiculous," he said, "She didn't mean it. It's a mistake, just say it's a mistake."
"What she did here is just so craven," former Republican strategist Steve Schmidt said. "And it displays an aspect of her character that explains so fully why she is so deeply unpopular with the American people and particular in the middle of the electorate."
"It's the kind of comment if another candidate made it, if it had been Bernie Sanders or a Republican, could you imagine the attacks she would have launched?" asked Willie Geist.
"Could you imagine if a Republican said it?" co-host Mika Brzezinski agreed chuckling.
Watch above, via MSNBC.
[Image via screengrab]
——
>>Follow Alex Griswold (@HashtagGriswold) on Twitter
Have a tip we should know? tips@mediaite.com