MSNBC Guest: Obama Not Afraid Of Government Because 'He Comes From A People Who Were Owned'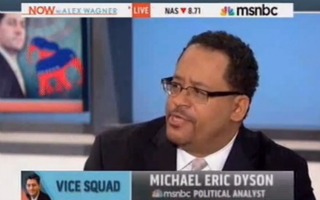 Georgetown University Professor Michael Eric Dyson joined MSNBC's NOW panel guests on Wednesday where he weighed in on where he believes President Barack Obama draws his trust and faith in the federal government to solve large social problems. Dyson opined that Obama, as an African American who understands the legacy of slavery, sees the federal government as the solution more than the problem in most cases.

RELATED: Michael Eric Dyson: Obama Played It Safe Because Fox Called Him 'Angry Black Man' Night Before
NOW host Alex Wagner read a portion of a statement from Obama defending the president's belief that there is more good than bad from the actions of the public sector. The president cited programs like Medicare and Medicaid as examples of public programs that benefit the broadest segment of the population.
Dyson said that the president's defense of social welfare programs is broadly more preferable than the austerity advocated by Republican vice presidential candidate Paul Ryan.
"What is Paul Ryan's plan? It's to hack the at the social programs, it's to whack the poor and it's to sack the American dream for them. So, it's a hack, whack, sack thing for them – I hate to be jingoistic there, but there it is," Dyson said.
He went on to identify what he believes is the provenance of Obama's positive views towards the public sector:
The reason Obama knows that the government is not the enemy is because he comes from a people who were owned, and it was a government-sponsored project. If the government sponsored your ownership, the government has to step in. Now, that's 100, 200 years ago, but we've seen the legacy of slavery, economic inequality, Jim Crow laws, all of that stuff operates in our own time.
Watch the clip below via MSNBC:
> >Follow Noah Rothman (@Noah_C_Rothman) on Twitter
Have a tip we should know? tips@mediaite.com