MSNBC Guest Repeatedly Breaks Hosts' Hearts by Insisting VA Scandal Not About Funding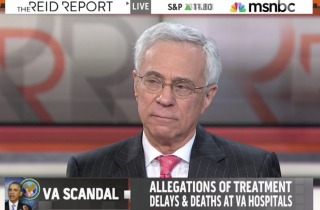 The VA scandal is fast becoming the sum of all progressive fears.
On Wednesday, MSNBC viewers were confronted by the sober warnings of a regular and respected guest, the decorated retired Army Col. Jack Jacobs. Mercilessly, he shared with viewers an inconvenient truth: the VA scandal is a failure of progressive government in its most elemental form. The VA has failed America's veterans not because of a lack of money, or vision, or indifference on the part of the public. It has failed because it was designed to fail. Moreover, the only solutions to the problems associated with a nonfunctional VA system may be found in the private sector.
In an interview with MSNBC's Ronan Farrow, Jacobs preemptively attacked the findings of any investigation into the VA's issues, saying that predictable assertions about an underfunded system in need of a larger bureaucracy will be misguided.
"The structure of the Veterans Administration health business is not organized in order to deliver health care," he declared. "Unless until you break it down, and have a public/private partnership, you're not going to be able to give health care to veterans who really need it."
Even Rep. Sheila Jackson Lee (D-TX) conceded that there was a need to "throw wisdom to the wind" and embrace radical solutions to the problems plaguing the VA system. "Maybe there needs to be some collaboration with our public health system outside of the veterans," Lee added in a clear reference to a voucher program veterans could use to receive care in private hospitals.
But Jacobs was not finished crushing the dreams of his hosts. Less than an hour later, in an interview with MSNBC host Joy Reid, the retired Army colonel delivered a near fatal blow to the central liberal conceit.
When asked by Reid if Veterans Affairs Sec. Eric Shinseki might receive the benefit of the doubt from veterans who received poor or no care because he was a "good guy" who had opposed the Iraq War, Jacobs did not let her down gently when he answered no.
The retired colonel went on to again insist that money is not the VA's problem. In fact, you could confiscate ever dollar of the incalculable wealth of both the Koch brothers have hoarded and invested it into the Department of Veterans Affairs, and it would not resolve the chronic mismanagement issues plaguing that government-run enterprise.
"It doesn't matter how much money you give them," Jacobs said, observing that the VA was among the few departments to receive more funding following forced sequestration cuts in 2013. "The structure of the organization is incapable of delivering what we really want and really need, and that is timely, first-class medical care for all our veterans."
For average Americans, VA scandal represents failure of the liberal vision of collective responsibility for medical care. This is an even more politically potent right now because it speaks to the competency of the Democratic vision of government administered by a Democratic president. Not just any Democratic president, mind you, but one who has spent most of his presidency fighting to pass and preserve what he has called a step toward state-provided health insurance to all.
Now, with the bodies of those to whom America is most indebted exposed and in plain view, Democrats are unable to foist blame for their condition on their old anxieties. It's not a chronic lack of funding, it's not indifferent administrators, it's not even the callous Republican Party which is at fault for the chronic mismanagement at the VA; it is the system itself.
President Barack Obama inherited the problems at the VA, but he also slacked on his campaign promises to address that broken system. Every moment he waits to back dramatic, immediate reforms to the VA is a moment in which Americans lose more faith in the federal government's ability to provide for average citizens.
The VA is a tumor on the central pillar of liberalism, and the president will have to engage in the painful process of excising it before it spreads.
[Image via screengrab]
— —
>> Follow Noah Rothman (@NoahCRothman) on Twitter
Have a tip we should know? tips@mediaite.com