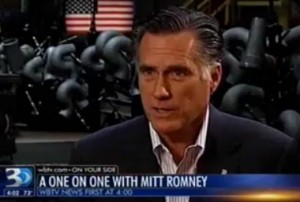 On the heels of his anti-gay marriage, anti-civil union double-down on Evolution Day, presumptive Republican presidential nominee Mitt Romney was at least getting credit for supporting gay adoption. Thankfully, he cleared that noise up today in an interview with Charlotte, NC's WBTV-CLT (The Clt!). Confronted with his statement that gay adoption was "fine," Romney said he was simply acknowledging the fact that gay adoption is legal in almost every state.
The Clt's Paul Cameron asked Romney, "You came out in favor of gay adoptions, how does that sway with gay marriage? Some would say that's a position that's far left."
"I think all states but one allow gay adoption," Romney replied, "so that's a position which has been decided by most of the state legislature, including my state some time ago, so I simply acknowledge the fact gay adoption is legal."
While this position seems more in line with Romney's argument that even a dead straight parent is better than a live gay one, it is still a reversal of his prior historical statements on the subject. Way back in May of this week, Romney told Neil Cavuto that (italics mine) "in my state individuals of the same sex were able to adopt children. In my view that's something that people have the right to do. "
It's never a surprise to see Mitt Romney flipping like a mattress in a $20 brothel, but in this case, the shift is most welcome, especially to his supporters. Even the faintest bit of credit on gay rights issues could hurt him with his base.
Interestingly, President Obama appears to be using similar sleight of hand on whether gay marriage should be a state issue, making statements that people interpret as an endorsement of states' rights, but can be re-spun as mere acknowledgement of it.
Here's the clip, from The Clt:
Have a tip we should know? tips@mediaite.com