Obama's Campaign-Style 'Cliff' Speech Rips GOP For Anti-Tax Stance, Praises Self For 'Responsible' Approach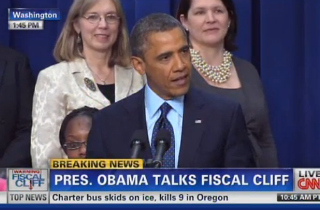 Speaking before a friendly crowd of "middle-class families" at the Old Executive Office building in Washington, D.C., this afternoon, President Obama addressed the ongoing fiscal cliff negotiations, claiming that the deal was not achieved in his preferred "balanced approach" because of Republicans unwilling to negotiate higher taxes on the wealthy. While noting that the current plan includes no new spending cuts, he also added that any future debt deals will have to include more tax increases.
"The potential agreement that's being talked about would not only make sure the taxes don't go up on middle class families, it also would extend tax credits for families with children," he began. "It would extend our tuition tax credit that's helped millions of families pay for college. It would extend tax credits for clean energy companies creating jobs and reducing our dependence and foreign oil. It would extend unemployment insurance to two million americans out there actively looking for a job."
The president noted that he hoped to use his speaking time to encourage the negotiating parties to recognize how "pressing" an issue the so-called "fiscal cliff" is to the average American and their economic concerns.
He continued on with a requisite overture to his desired "balanced" approach to any negotiation: "I have to say that ever since i took office, throughout the campaign and the last couple months, my preference would have been to solve all these problems in the context of a larger agreement, a bigger deal, a grand bargain, whatever you want to call it, that solves our deficit problems in a balanced and responsible way."
The president then took a shot at the Republicans in Congress who have been reluctant to negotiate increased tax rates for the wealthiest Americans: "But with this Congress that was obviously a little too much to hope for at this time," he said, eliciting laughter from the friendly crowd.
"The agreement being worked on right now would further reduce the deficit by asking the wealthiest two-percent of Americans to pay higher taxes for the first time in two decades," he added. "So that's progress. But we are going to need to do more. Keep in mind last month Republicans in Congress said they would never agree to raise tax rates on the wealthiest Americans. Obviously the agreement would raise those rates permanently," he continued to applause from the crowd.
After once again claiming the mantle of believing in "responsible" and "balanced" approaches to fiscal negotiations (without including any new spending cuts in the current plan), the president hit at the GOP:
If Republicans think that I will finish the job of deficit reduction through spending cuts alone — and you hear that sometimes coming from them, that sort of after today we are just going to try to shove only spending cuts down — shove spending cuts at us — that will hurt seniors or hurt students or hurt middle class families without asking also equivalent sacrifice from million airs or companies with a lot of lobbyists. If they think that's going to be the formula for how we solve this thing, then they have got another think coming. We have got to do this in a balanced and responsible way.
"If we are going to be serious about deficit and debt reduction it will have to be a matter of shared sacrifice," he concluded. "At least as long as I'm president. And I'm going to be president for the next four years."
Watch below, via CNN:
— —
>>
Follow Andrew Kirell (@AndrewKirell) on Twitter
Have a tip we should know? tips@mediaite.com