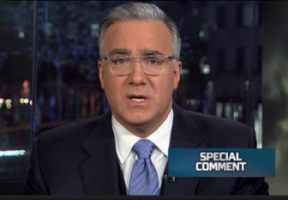 Keith Olbermann delivered an hour-long "Special Comment" last night that was entirely focused on health care reform in this country. By sharing what he called the "eye-opening and jaw-dropping" ordeal of his father falling gravely ill and being hospitalized, the Countdown host referenced his father's recent experiences as a patient and his own as a primary witness.
Clip 1 – Health care as basic as life itself
Oct. 6: In a Special Comment Hour, Countdown's Keith Olbermann points out that there is no higher human priority than health and therefore no more basic government responsibility than ensuring the care of its citizens:
Clip 2 – Olbermann on America's widening health gap Oct. 6
Warning that America is actually getting worse at addressing the health concerns of its citizens and is on track to surpass even the tragic conditions of Dickensian England.
Clip 3 – Companies betting on employees' lives Oct. 6
Outlining how the current American health insurance system is so much more focused on making money than making Americans healthy that in some cases companies actually benefit when their
employees die.
Clip 4 – Respecting pain and patient
Olbermann presents a personal perspective on the pain of illness and the difficulties of end-of-life decision making – physical and emotional pain worlds away from the insulting "death panels" debate.
Clip 5: A wake-up call to Washington.
Olbermann outlines his intention to show his support for American health reform by donating to the National Associations of Free Clinics to offer a free clinic every week in the capitol cities of the states of the six senators standing in the way of health reform in the Senate. Details for viewer participation to come.
Have a tip we should know? tips@mediaite.com