On CNN, Romney Advisor Won't Say If Romney Will Repeal Obama's Executive Order On Immigration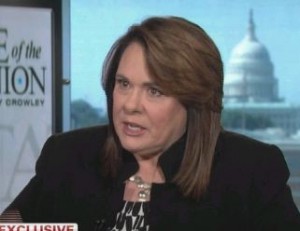 Since President Obama is currently leading Mitt Romney by double-digit margins in some states with Hispanic voters, the Republican presidential candidate is currently walking a fine line talking about immigration reform. On CNN's State of the Union today, Candy Crowley asked Romney advisor Ed Gillespie if Romney would immediately repeal Obama's executive order targeted at younger immigrants or if he would keep it in place. Gillespie said it would be up for review, but would not say exactly what Romney would do about it.
RELATED: New Obama Ad Hits Romney For Refusing To Say Whether He'd Repeal New Immigration Policy
Crowley told Gillespie that at this point, it remains unclear whether Romney would do away with Obama's executive directive on immigration or not. Gillespie explained that every single executive action taken by Obama during his presidency will be the subject of review, and could end up being repealed. Crowley pressed Gillespie for a definitive answer on this specific policy, because young Hispanics who meet the criteria lined out in Obama's order to get working papers could lose all of that the minute Romney is sworn in, and so explaining his position before the election would at least tell voters what they should expect.
Gillespie suggested that the executive action by Obama was merely taken only to win over certain voter demographics, but as the segment winded up, he didn't tell Crowley either way what Romney would do about the order, merely insisting once again that it would be thoroughly reviewed.
Watch the video below, courtesy of CNN:
Have a tip we should know? tips@mediaite.com
Josh Feldman - Senior Editor