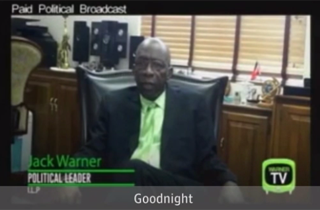 Just as quickly as he cited an Onion article to prove that America had an agenda in his indictment, former FIFA vice president Jack Warner announced that, now that president Sepp Blatter has stepped down, he's gonna snitch on him.
In a bizarre "paid political ad" aired in Trinidad and Tobago, Warner, one of several FIFA officials accused of bribery by the Department of Justice, announced that he would release a trove of documents proving that Blatter not only received bribes, he also influenced the 2010 elections in his native country.
And yes, this aired on national television. Via CNN:
The revelations came first in a paid political ad, titled "Jack Warner: The Gloves are Off," in which he said he had prepared a comprehensive series of documents on FIFA's transactions, including checks and corroborated statements.

They have been placed in "different and respected hands," he said. "There can be no turning back."

In the TV ad, aired in his native Trinidad and Tobago on Wednesday, Warner said he would "no longer keep secrets for those persons who now seek actively to destroy this country's hard-won international image."

He also said, "I reasonably and surely fear for my life."
It is currently unclear whether Warner acknowledges he will get stitches as a consequence of his snitching. (It's also unclear why he put out an ad announcing that he will do something that could prompt his enemies to kill him.)
In a later appearance at a political rally, Warner bragged that he got Blatter to step down, and that he himself was "a heartbeat away" from the FIFA presidency. "I said to him, step down. I said to him, Mr. Blatter, I empathize with you, because I was in 2011 where you are today," he said during the rally. "The only difference is you caused my demise, I didn't cause yours."
Watch the ad below via The Guardian:
And here's CNN's coverage of the rally, which, okay.
[Image via screenshot]
—
>> Follow Tina Nguyen (@Tina_Nguyen) on Twitter
Have a tip we should know? tips@mediaite.com