O'Reilly Clashes With Colmes And Crowley: Conservatives Need To Stop Accusing Obama Without Facts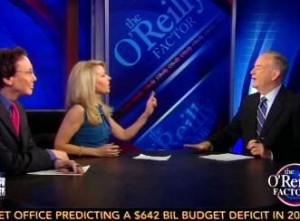 During a heated segment tonight with Alan Colmes and Monica Crowley, Bill O'Reilly took the time to fire back at conservative critics who doesn't think he's hard enough on President Obama. O'Reilly slammed right-wing radio hosts and pundits who go after Obama without facts to back them up, saying that such things hurt the credibility of Obama critics every single time they leap on the slightest screw-up as the next Watergate.
O'Reilly brought up how Obama has not led as transparent an administration as he promised. Colmes agreed, and got O'Reilly to acknowledge there is a concerted effort to tear down Hillary Clinton. O'Reilly argued that conservatives who convince themselves that every single White House screwup is somehow a scandal or worse than Watergate end up giving cover to the White House.
RELATED: O'Reilly Claims Conservatives Are Attacking Him Over 'Thump The Bible' To Diminish His Power
O'Reilly mocked the paranoia resulting from the AP scandal, and directly asked Crowley if conservatives playing up every little White House story helps Obama. Crowley argued that the bigger problem is that the White House gets away with too much thanks to a sympathetic media, but O'Reilly interrupted to challenge her.
"Many people get mad at me because I tell them I cannot speculate, I have to deal with facts. However, on talk radio, where you live, there's a lot of speculation, and you guys can do it. That's what's you do. When I was talking on the radio, I did it. But it hurts the cause of people who do believe the Obama administration is corrupt to throw out all of these unsubstantiated charges."
O'Reilly also grilled Colmes for defending the Obama administration on Benghazi, poking holes in the credibility of one of the co-authors of the official report on Benghazi for not sufficiently interviewing Clinton.
Watch the video below, courtesy of Fox News:
—–
Follow Josh Feldman on Twitter: @feldmaniac
Have a tip we should know? tips@mediaite.com
Josh Feldman - Senior Editor