O'Reilly Confronts Barney Frank For Politicizing Boston, Frank Counters: 'Didn't Know You Were Opposed To Polarizing'
O'Reilly Confronts Barney Frank For Politicizing Boston, Frank Counters...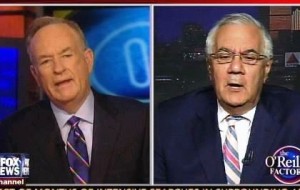 Ex-congressman Barney Frank faced off with Bill O'Reilly tonight over his politicization of the Boston bombings with statements like "no tax cut" would have made recovery efforts any better. Frank argued that just because there is a horrible, tragic event in the news doesn't mean that all political debate should stop entirely, but O'Reilly told him that he unnecessarily divided the country at a time when it needed to come together.
RELATED: Bill O'Reilly And Kirsten Powers Destroy 'Narcissistic' Barney Frank: 'Shut Up Until The People Are Buried'
O'Reilly asked Frank if he should have waited a few days before making political points about the bombing. Frank said he had evert right to do so, pointing to conservatives who used the bombing to question immigration policy, and said that there's no reason why everyone should suspend politics in the wake of tragedy.
O'Reilly countered that saying things about tax cuts when Boston is still recovering from the carnage, he is "polarizing Americans" instead of wanting them to come together. Frank pointed out that only two days after the bombings O'Reilly and guest Dennis Miller were critical of Obama for not labeling the bombing an act of Islamic terrorism, and wryly remarked, "I didn't know you were opposed to polarizing."
Frank repeatedly scolded O'Reilly about interrupting him, though at one point O'Reilly remarked that he already spoke twice as much as him. When Frank asked when it suddenly becomes appropriate to talk politics, O'Reilly said that he should have waited until the end of the week, when there's been some distance from the bombings.
O'Reilly ended the interview by asking Frank why Obama still has not blamed Islamic radicalism for the bombing. Frank admitted he doesn't know why, insisting to O'Reilly that he hasn't really spoken much to Obama after leaving Congress.
Watch the video below, courtesy of Fox News:
—–
Follow Josh Feldman on Twitter: @feldmaniac
Have a tip we should know? tips@mediaite.com
Josh Feldman - Senior Editor