O'Reilly: 'Docile' Press Corps Shocked I Would Dare Ask Obama Any Tough Questions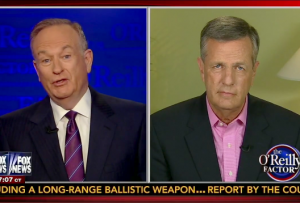 Bill O'Reilly spent a good amount of time last week defending and firing back against critics of his big Super Bowl interview with President Obama, and now O'Reilly's carried it over to week two, firing back at Nancy Pelosi for 1) not appearing on his show, and 2) saying he was disrespectful to Obama. O'Reilly sent Jesse Watters to grill Pelosi last week about why she won't come on The Factor, and Pelosi said if O'Reilly wants her on, being "disrespectful" to the president isn't a good way to do it.
O'Reilly was bothered that Pelosi did not keep to her word (she had reportedly told O'Reilly a few months ago she would be happy to go on his show), and found it "troubling" he had to be the first one to ask Obama those questions. He said, "There is enormous pressure from supporters of the president not to put him on the spot."
He said that while Obama appeared to enjoy the interview, some of his advisors were "not pleased," and O'Reilly noted how one sarcastically mused why Obama wasn't asked to produce his birth certificate. O'Reilly explained it's a big part of the White House mentality that Obama is "not to be challenged."
O'Reilly then brought on Brit Hume to lament the "docile" press corps. Hume said, from his own experience, it's frustrating to have a forum with the President of the United States where you want to be respectful, but also not let them ramble because you only have a small period of time with the president.
Watch the video below, via Fox News:
[photo via screengrab]
— —
Follow Josh Feldman on Twitter: @feldmaniac
Have a tip we should know? tips@mediaite.com
Josh Feldman - Senior Editor