O'Reilly Takes On SPLC Spokesman For Labeling Family Research Council A 'Hate Group'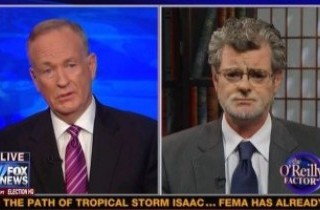 As promised, Bill O'Reilly gave an opportunity Monday evening to the Southern Poverty Law Center to address Family Research Council president Tony Perkins' allegations that the SPLC's labeling of the FRC as a "hate group" gave "license" to alleged gunman Floyd Corkins to attempt murder at the FRC offices in Washington, D.C.
"The way he described our criticism of his group is false," SPLC spokesman Mark Potok said of Perkins' appearance on The Factor two weeks ago. "We do not list any group on the basis of believing that homosexuality is a sin or opposing same-sex marriage. We have listed the FRC as a hate group because it regularly spreads demonizing false propaganda about the LGBT community."
When pressed for a specific example, Potok elaborated: "It describes gay people as perverted, as incestuous, as evil, and dangerous to the nation. It also regularly things that are flat-out lies about gay people as a group. For instance, it describes pedophilia, in Tony Perkins' words, as a 'homosexual problem' and closely associated pedophilia with homosexuality. And that is simply false."
O'Reilly defended the FRC for, in their words, simply being "a Christian organization with an obligation to love our neighbor, including our neighbors who experience same-sex attractions. However, we believe sexual acts between persons of the same sex are objectively harmful to those who choose to engage in them and to society at large. In addition to being forbidden by scripture."
"Are they a hate group for that beliefs?" O'Reilly pressed.
"Not because of that set of beliefs. They are a hate group because they lie about scientifically-known facts about the LGBT community," Potok answered.
O'Reilly then challenged Potok on whether pedophilia is largely confined to homosexual individuals, using FRC's statement that "it is undisputed that a percentage of child sex abuse cases that are male-on-male is far higher than a percentage of adult males that are homosexual.
"So they are pointing out there is a higher percentage of homosexual pedophilia than heterosexual pedophilia," O'Reilly said. "So are they a hate group for that?"
"They are making a false allegation," Potok replied.
The two then continued to dispute the homosexual-pedophilia connection, with Potok adding that the FRC also claims that gay people are "fundamentally incapable of being good parents," which the SPLC characterizes as patently false.
Watch below, via Fox News:
— —
>> Follow Andrew Kirell (@AndrewKirell) on Twitter
Have a tip we should know? tips@mediaite.com