O'Reilly Blasts 'Irresponsible' Brokaw For Comparing Terror And Drones: Should We 'Sit Back And Watch Americans Die?'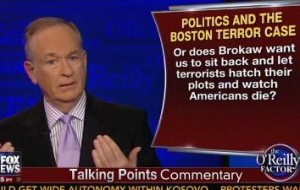 Bill O'Reilly used his "Talking Points Memo" segment Monday night to criticize the "left-wing media" for politicizing the Boston Marathon bombings. In particular, O'Reilly set his sights on NBC's Tom Brokaw, who suggested on Meet The Press this weekend the U.S. should examine its drone policy in light of latest attacks in Boston. O'Reilly challenged Brokaw to come on his show and defend his assertions, asking, "do you want to sit back and let terrorists hatch their plots and watch Americans die at home and on the battlefield?"
O'Reilly was clearly seething at Brokaw for "putting some of the motivation for the Boston bombings on his own country," but predicted that the veteran reporter would reject his offer of a debate so he doesn't have "associate with the peasants here on The Factor." He went on to explain why he thinks it's absurd to equate an "act of terror" that kills civilians to an "act of war" that does the same. "This ridiculous left-wing moral equivalency is insulting."
The host was surprised to find out that his frequent guest and usual sparring partner Juan Williams actually agreed with his assessment of Brokaw, but things between the two men turned sour when O'Reilly started attacking President Obama for not using the term "Muslim terrorism" to describe the Boston bombings.
Williams said that it would be jumping the gun to call the attacks "Muslim terrorism" since we don't yet know the motives of the suspects. "It's terrorism," he said, "I don't care where it came from."
O'Reilly turned his anger towards Williams at that point, screaming at him "yes we do" know that the attacks were driven by Islam and "I'm not leaping" to conclusions. He asked if Williams had seen "all of the reportage about the guy on social media putting all of this stuff about jihad on there. Don't you know that Juan?"
Mary Katharine Ham jumped into the conversation, saying, "everybody in the media is happy to leap to conclusions when they think it might be somebody right of center." She added that the media only hesitates to make assumptions when "when the guy in question has YouTube links going to al Qaeda and other extremist imams."
O'Reilly is right that Brokaw is unlikely to come on his Fox News show for a debate, but it would certainly make for some entertaining television.
Watch video below, via Fox News:
—
>> Follow Matt Wilstein (@TheMattWilstein) on Twitter
Have a tip we should know? tips@mediaite.com