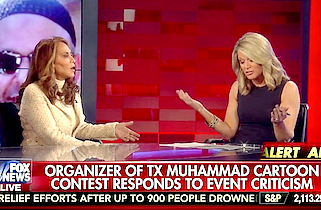 A segment that started off with a Rosa Parks comparison got personal on Fox News Tuesday morning, when American Freedom Defense Initiative head Pamela Geller interpreted criticism from a Fox News host as an attempt to restrict her speech. She accused the media of "self-imposing" Islamic fundamentalist speech restrictions and dismissed Charlie Hebdo cartoonist Jean-Baptiste Thoret's attempt to distance his magazine from her organization.
"We have to have more of these conferences because the media self-enforces the sharia," Geller said. "You gave them the power. If all the media had run the cartoons, what were they going to do? They couldn't kill everybody. The media offend me without hesitation."
RELATED: CNN's Tapper to Pamela Geller: Why Specifically Make Mohammad Target of Event?
Host Martha MacCallum raised alternative methods for Geller to make her point without incendiary Islamophobia, which Geller rejected. "This is political Islam, seeking to impose restrictions on free speech," she said, "and you're asking me to abridge my speech so as not to offend savages."
"I absolutely get where you're coming from," MacCallum said. "I'm not sure you went about it the right way."
"Again, you're looking to restrict my speech," Geller objected. "You don't like the way I'm doing something. Well I don't like the way you're doing things, but I would never look to change it, ever."
"Nobody's looking to restrict your speech," MacCallum assured her.
Watch the clip below, via Fox News:
[Image via screengrab]
——
>> Follow Evan McMurry (@evanmcmurry) on Twitter
Have a tip we should know? tips@mediaite.com