Perino Dismisses Conspiracies About Harry Reid Benefiting from Cliven Bundy Standoff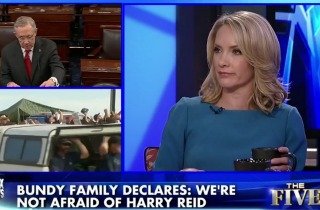 Fox News Channel's The Five co-host Dana Perino was strongly critical of Senate Majority Leader Harry Reid (D-NV) who she said was actively inflaming the tense standoff between Nevada rancher Cliven Bundy and the federal government over his use of public lands. However, she agreed with her co-hosts who said that taking Bundy's side in this fight was not the right battle to wage. She added that "wishful thinking" is among conservatives' "worst enemies."

"You've got to find candidates who can win and then you don't have to worry about Harry Reid," said co-host Greg Gutfeld after lamenting the GOP's choice of nominee to face Reid in his 2010 Senate reelection bid. "We don't want to focus too much on this battle. We should see that the bigger battle is at the ballot box."
RELATED: NY Times Buries The Lede: Anderson Cooper's Ratings Surge At 8PM
Turning to Perino, co-host Eric Bolling asked if the rumors that Reid's son had engaged a Chinese firm to build a solar plant on the disputed real estate or that a former Reid aide who now heads the Bureau of Land Management had any merit.
Perino said that the rumors about a solar plant were "debunked" and Reid's former aide was confirmed by a bipartisan Senate majority. "There are good staffers out there," Perino asserted.
"I think wishful thinking is one of conservatives worst enemies," she added.
However, Perino scolded Reid for antagonizing the ranchers by attacking them rather than attempting to de-escalate an already tense situation.
Watch the clip below via Fox News Channel:
[photo via screengrab ]
 — — 
>> Follow Noah Rothman (@NoahCRothman) on Twitter
Have a tip we should know? tips@mediaite.com