POLITICO's Dylan Byers: Next Time CNN Broadcasts 'Breaking News,' Viewers May Not Believe Them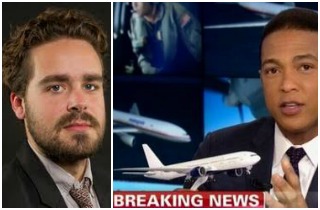 POLITICO reporter Dylan Byers joined Newsmax host Steve Malzberg on Monday to share his thoughts on the ongoing coverage of a missing Malaysian passenger plane which is presumed to have crashed in the Indian Ocean. With cable hosts beginning to snap at each other over the excessive use of the "breaking news" banner, Byers said that the news-consuming public is beginning to feel "duped" by CNN and will be slower to trust them when the next "breaking" event occurs.

Last week, MSNBC host Chuck Todd and a CNN producer got in a heated exchange on Twitter after Todd criticized that network's overuse of the "breaking news" label over the course of their marathon MH370 coverage.
"I think there are probably a lot of people at CNN who are getting really exhausted with covering this story and would like to turn to something else," Byers said. "There's just a lot going on in the world right now that probably deserves more attention."
RELATED: Awesome: CNN Producer Tears Apart Chuck Todd for 'Breaking News' Sanctimony
Malzberg asked Byers about MSNBC host Chris Hayes going after CNN for excessive coverage of the missing airliner. "The truth is, MSNBC does its fair share of, you know, calling things breaking news when it's not," Byers said.
He added that Todd threw stones with his criticism of CNN while "MSNBC is an enormous glass house."
But Byers lent some credence to Todd's critique of the overuse of the breaking news label. "It's a boy who's cried wolf scenario," he said. "People are going to get really, really tired of it."
"People don't like feeling like they're being duped," Byers concluded.
Watch the segment below, via Newsmax:
[Photo via POLITICO/CNN screen grab ]
— —
> >Follow Noah Rothman (@NoahCRothman) on Twitter
Have a tip we should know? tips@mediaite.com