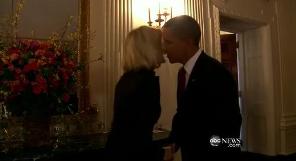 ABC News had an exclusive interview with Pres. Barack Obama, ahead of his first State of the Union speech Wednesday.
It was a big interview for Diane Sawyer – but it was jarring and a little odd to see Pres. Obama greet her with a kiss.
The interview had some newsy takeaways – most notably this soundbite: "I'd rather be a really good one-term president than a mediocre two-term president." Also, "I can guarantee that the worst thing we could do would be to raise taxes when the economy is still this weak."
But before the interview aired, ABC decided to edit b-roll of the initial greeting, where the President comes up to Sawyer, gives her a kiss on the cheek followed by a semi-awkward smiling exchange with his hand on her arm. This was pre-interview – and aired in Sawyer's set-up. But this was a big moment for Sawyer, certainly her biggest since becoming the World News anchor last month, and it came across slightly un-anchor-like. And we all know the track record of evening news anchors with the President – remember Brian Williams' "bow" from last year?
Are we making too much out of nothing? It was quick, and obviously the interview was truly news-making. But are questions of double standards raised when we see this type of greeting between President and Big 3 news anchor, or any reporter, especially as the Big 3 news anchors are now two-thirds women?
Judge for yourself. Here's the kiss, and below is video of the most newsy part of the actual interview:


> Update: I went back and looked at two recent interviews, with Katie Couric and Savannah Guthrie. Both started with Pres. Obama and interviewer already seated, so the greeting was not shown.
—–
» Follow Steve Krakauer on Twitter
Have a tip we should know? tips@mediaite.com