Rachel Maddow: Clint Eastwood's RNC Speech Was 'A Political Disaster' For The GOP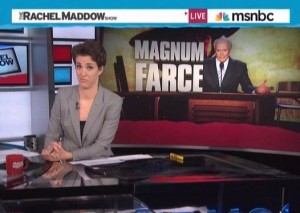 Rachel Maddow arguably had the most stunned reaction of anyone in cable news last night to Clint Eastwood's speech at the Republican National Convention last night. She followed up on her show tonight, putting particular emphasis on the RNC's bizarre decision to not air the Mitt Romney biographical video in the primetime slot in favor of Eastwood spending over ten minutes scolding an empty chair.
RELATED: S.E. Cupp: 'I Wanted A Fist Full Of Cyanide' Watching Eastwood's RNC Speech
Maddow said that the timing of Eastwood's speech was not good for the GOP, because they needed the "maximum political impact" from Romney's speech last night, and it was completely eclipsed by Eastwood's confusing rambling. She pointed out that the broadcast networks planned in advance to only air the final hour of the convention speeches, starting at 10 PM, in primetime, meaning that the Republicans deliberately chose which speeches would get the most attention, which included Eastwood last night.
The biographical Romney video that debuted last night aired before 10 PM, in contrast to how conventions have released such videos in election years past. Maddow said the video was well-done, but most people who tuned in did not get to see it. And, she added, the Republicans clearly thought Eastwood's speech would be completely worth cutting the video from the primetime hour.
Maddow called out the Romney campaign for its unbelievable decision to let Eastwood do his shtick.
"What they did last night was a political disaster. This is unheard of… Who's responsible for this? How did this happen?"
She concluded by saying, "If nobody gets fired for this, what does that say about who's in charge over there?"
Watch the video below, courtesy of MSNBC:
—–
Follow Josh Feldman on Twitter: @feldmaniac
Have a tip we should know? tips@mediaite.com
Josh Feldman - Senior Editor