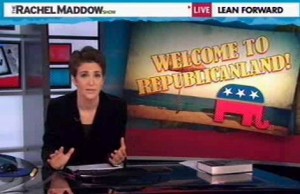 Tonight on her show, Rachel Maddow looked into the amazing adventures of New Hampshire's "Old Man of the Mountain" rock formation (which can be seen on the state's license plate and its special quarter). For decades, Maddow explained, the state took great care to try and preserve the formation with the help of concrete and pulleys and magic and bubble gum, but, despite these efforts, the rock eventually fell away in 2003, leaving the side of the mountain woefully old manless.
In other New Hampshire news being covered on The Rachel Maddow Show, the state is planning to hold a Republican primary in early December instead of in January or February as it usually does. This, announced Maddow, has the makings of Granite State / Rock feud (Rocky is an accepted nickname for people named Rachel, right? Sure it is.) because it means that Iowa will also have to have an earlier caucus, possibly as early as November and Americans will spend an entire year, pretty much, voting on its next president:
A year of voting! Not campaign season, but election, lasting a year! Aah! If this happens, what happen, then, to the ratio of time when policy can actually get made to time when everybody acknowledges that policy can't really be made because it's campaign season? What happens to that ratio?
RELATED: Gretchen Carlson On Joe Lieberman's Opposition To Obama Jobs Bill: 'You Sound Like A Republican'
We won't ever, she worried, be able to actually see officials perform in office because they will constantly be campaigning and talking about policy rather than working on creating any sort of policy. Right now, for instance, job creation is the top priority for the American people. And, yet, Senate Republicans have voted to filibuster Barack Obama's jobs bill and are focusing efforts on other issues, like abortion. It's an issue that's of interest to voters, sure, and some more than others, but it's not really what the American people want its government to focus on right at this very moment. The role of the media, Maddow opined, is to shed a light on what politicians — particularly those angling for office — are actually doing versus what they say they're doing in order to garner support and votes.
Have a look, via MSNBC:
Have a tip we should know? tips@mediaite.com