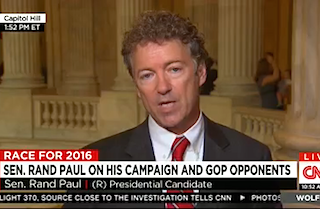 What would a presidential candidate interview be without an inevitable final question about Donald Trump? For his final question posed to Sen. Rand Paul (R-KY) on Thursday afternoon, CNN's Wolf Blitzer asked how it feels to be polling so much lower than the unlikely frontrunner in every major national poll.
Paul was hardly able to disguise his obvious contempt for Trump and the media that incessantly covers him, telling Blitzer, "Television works, Wolf. If you would give some other candidates time from eight in the morning until eight at night all day long, every day for three weeks, I'm guessing some other candidates might rise as well."
"I think this is a temporary sort of loss of sanity," Paul added, "but we're going to come back to our senses and look for somebody serious to lead the country at some point."
When Blitzer asked Paul if he really believes 20 percent of Republicans in one recent poll have a "loss of sanity," the candidate backed off a bit, instead saying, "No, I think what they are is they're hungry for someone who will tell the truth, who say Washington is broken and that we really have to start over, have term limits, wash out the place."
"But the thing is, we also have to have a serious discussion about how we're going to do it," Paul added, indicating that he is the one to lead that conversation. For example, he said that making the Mexicans pay down our national debt is not a realistic solution to America's problems.
Watch video below, via CNN:
[Photo via screengrab]
— —
>> Follow Matt Wilstein (@TheMattWilstein) on Twitter
Have a tip we should know? tips@mediaite.com