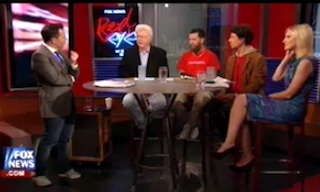 Was Vice President Joe Biden's so-called 'gaffe' coming out in support of same-sex marriage rights an elaborate hoax? Some panelists on Wednesday morning's Red Eye surmised as much, as the controversy over his remarks continued to be the topic du jour of the talk show set.
Radio host John Gibson was unsettled by various aspects of the Vice President's remarks, and thought something didn't smell right. "Look, I can't believe this is a natural gaffe," Gibson observed. "He goes on Meet The Press, he gives this long winded answer. It is not like something casual. And it seems to me that the Obama team is playing chips all over the roulette table. You put a little on red and a little on black and a little here and a little there. So the President can say he's evolving. Arne Duncan is for it and Joe Biden is for it."
"He is setting the table, if you will," Greg Gutfeld opined.
"Yes, that is a good way to put it," agreed Gibson.
"He is getting ready to have an intervention with America –after the election," Gutfeld continued. "He is going to be fully evolved. After the election."
RELATED: VP Joe Biden Comes Out In Favor Of Gay Marriage, Name-Drops Will & Grace
"I agree with John," added co-panelist Gavin McInnes. "I think it's a fake gaffe, he did it to test the climate for gay marriage. I think he did it because Obama had a bad jobs report 48 hours earlier. I think they wanted to keep Romney's Richard Grenell thing going in the news, and it was a strategic — he was a useful idiot, that Biden!"
"This is something that is going on," Gibson added. "It is one distraction after another. It is almost on purpose. When Obama said Romney wouldn't have killed bin Laden. Well, why did he do that? We didn't talk about the economy that day, we didn't talk about jobs that day. Whatever he can do, even if it seems to be embarrassing to him to get off that subject, you will notice they are doing it."
Gutfeld disagreed that the "gaffe" was orchestrated, saying that Obama was doing fine until Biden slipped up.
Watch the Red Eye panel debate whether there was political chicanery involved in Biden's gaffe below via Fox News:
Have a tip we should know? tips@mediaite.com