Red Eye's Moynihan Defends Lena Dunham From All You 'Mini Brent Bozells' Who Think She Called GOP 'Nazis'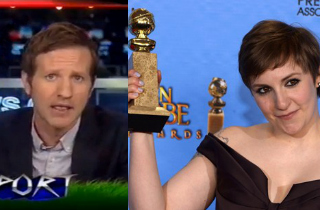 During Red Eye's "Half-Time Report" segment this early morning, fill-in ombudsman (and Daily Beast culture editor) Michael Moynihan took the rest of the show's panel to task for getting outraged over the reports that HBO's Girls creator Lena Dunham had called Republicans "Nazis" while explaining a new character for the show.
In an earlier segment of Red Eye, some of the panelists scorned Dunham for her remarks to Vulture that "We liked the idea of a Republican entering [the Girls] universe. And Hannah doesn't really have a clear sense of why you shouldn't date a Republican; it's kind of just like the same reason why you shouldn't date a Nazi: You just shouldn't."
She later went on to clarify that she doesn't "have any personal problem with dating a Republican," but that her character Hannah "has this reverse ignorance where she's like, If they're Republican, get them out of my airspace, and that was a fun thought to explore."
Moynihan used a minute of his fact-checking segment to set the record straight and defend Dunham from the conservatives who have been upset over her comments. His argument included a stab at a frequent Fox News guest whose organization called Media Research Center frequently expresses outrage over pop culture icons like Dunham:
"You guys are all wrong about Lena Dunham. She did not say Republicans were Nazis. She said her character. If you guys had read the story, and stopped being a bunch of mini-Brent Bozells […] He's a guy with a red beard, he gets angry all the time. […] Lena Dunham said she was exposing her character's quote-unquote 'reverse ignorance,' and that it was a fun thought to explore that the character thought that Republicans were Nazis. And then she later said that she herself, might, but maybe, she wasn't clear — she's not going to date a Republican, who are we kidding?"
After the group conceded Moynihan's point, he continued on to say that now everyone must retire any and all Nazi analogies: "Even though I parsed it for you that Lena Dunham did not actually say that, no more Nazi references. They're banned. Stalin, Mao — also banned," he concluded.
Watch below, via Fox:
— —
>> Follow Andrew Kirell (@AndrewKirell) on Twitter
Have a tip we should know? tips@mediaite.com