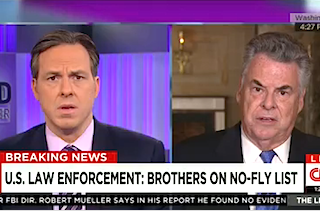 When Rep. Peter King (R-NY) joined CNN's Jake Tapper on The Lead Thursday afternoon to discuss yesterday's terrorist attack on the satirical magazine Charlie Hebdo's Paris offices, he presented a generalization about American vs. French Muslims that appeared to catch the host off-guard.
It was towards the end of his interview with Tapper that King decided to give the host and his CNN viewers a little history lesson on France's Muslim population. "They have a particular problem because of their colonial history in North Africa, because of the fact of being so close to muslim countries, and the fact that so many of their citizens have left to go to fight in Syria," King explained.
"And also, unlike the United States, they have a very angry Muslim population," King continued. "In our country, we don't have that, but you do have elements in France where the Muslims really feel cut off from general society."
Rather than pushing back on King's premise, Tapper simply said, "Explain what you mean, that the Muslims in Europe or in France are angrier than Muslims in the United States."
"Yeah, I was talking about in France, where they have not really been assimilated into society," King replied, in an apparent attempt to narrow his generalization, referring to areas like Marseille as almost "no-go" areas. "We have nothing like that in the United States," he said. "Our Muslim community, except for a very small, small percentage, are very patriotic Americans, part of the American mainstream."
Aside from his own perception, King did not offer any concrete evidence to back up this claim.
Watch video below, via CNN:
[Photo via screengrab]
— —
>> Follow Matt Wilstein (@TheMattWilstein) on Twitter
Have a tip we should know? tips@mediaite.com