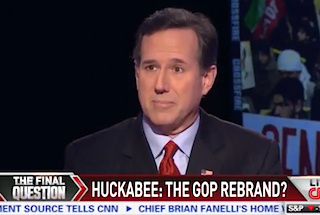 At the end of Thursday evening's edition of Crossfire on CNN, liberal host Stephanie Cutter asked her conservative guest Rick Santorum to help "deconstruct" what exactly Mike Huckabee meant when he told the RNC meeting audience earlier in the day that Democrats want to "insult" women "by making them believe that they are helpless without Uncle Sugar" coming in to help them "control their libido." Santorum attempted to explain, but could not quite bring himself to defend Huckabee's choice of words.
The former Pennsylvania senator and Republican candidate for president would not answer directly whether he "agrees" with Huckabee's sentiment. "I think what Governor Huckabee was saying is we've seen an unprecedented assault by the Democrats against Republicans claiming there's a war on women," Santorum explained.
He defended the GOP's dedication to gender equality, but admitted there was a fundamental disagreement on reproductive rights and abortion. "But on the issue of contraception, I don't think there's a whole lot of disagreement in America."
As someone who also tends to "speak off the cuff," Santorum commiserated with Huckabee, saying he probably would have "phrased it differently" or "chosen different words" to make his point if he could do it over again.
Santorum has certainly felt that way about his own words in the past, perhaps when he told the Value Voters Summit in 2012 that conservatives "will never have the elite, smart people on our side."
Watch video below, via CNN:
[photo via screengrab]
— —
>> Follow Matt Wilstein (@TheMattWilstein) on Twitter
Have a tip we should know? tips@mediaite.com