Santorum Explains Why JFK's Speech On Religion & Politics Makes Him Want To 'Throw Up'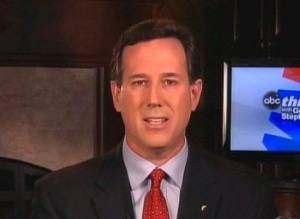 During Rick Santorum's appearance on ABC's This Week today, George Stephanopoulos brought up comments Santorum made early in the campaign about how President John F. Kennedy's speech on religion and politics made him want to vomit. Santorum defended his comments today by saying that JFK's interpretation of the separation of church and state is antithetical to traditional American values of bringing people with different religious convictions together in the public square.
RELATED: Santorum Explains His Remark Attacking Obama's 'Phony Theology': I Wasn't Suggesting He Is Not A Christian
The remark that amazed Santorum the most was Kennedy's declaration that "the separation of church and state is absolute," arguing that the church's ability to be involved in matters of the state is an important part of America's foundations. He touted the "freedom of religion" clause in the First Amendment to back him up.
"That means bringing everybody, people of faith and no faith, into the public square… to say that people of faith have no role in the public square, you bet that makes you throw up. What kind of country do we live in that says only people of non-faith can live in the public square and make their case. That makes me throw up."
Stephanopoulos brought up a question asked by someone on Facebook about how Santorum would represent the interests of non-Christians as president of the United States. Santorum encouraged people who disagree with him to come to his town halls and directly engage him on the issues. Several times during the interview, Santorum made neutral references to "people of no faith" and encouraged them to be part of the discussion as well.
Watch the video below, courtesy of ABC:
Have a tip we should know? tips@mediaite.com
Josh Feldman - Senior Editor