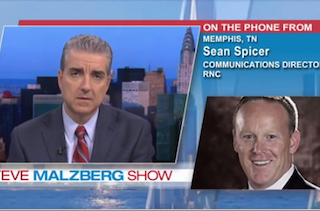 The Republican National Committee wants conservative media to be more involved in the GOP primary debates for 2016. RNC Communications Director Sean Spicer spoke to Newsmax's Steve Malzberg Friday after the committee voted to change the rules to include more openly conservative moderators.
"The party is actually going to have a greater say in our Republican primary debates," Spicer said in the interview. "For too long it has been the media who has decided when we're going to debate, who is going to be in the debate, what questions we're going ask, what subjects are going to be covered." Because "the liberal media does not have the interest of the party at hand," he said it was vital to have conservative journalists ask candidates questions.
"This has nothing to do with tough questions," Spicer insisted. "The conservative media is a heck of a lot tougher than the mainstream media. He cited Newsmax, The Daily Caller, the Washington Examiner and Breitbart as examples of media outlets that he would like to see have a hand in the debate process.
He also said the party was aiming the limit the number of debates in which Republican candidates have to participate. While there were a total of 23 GOP debates leading up to the 2012 election, Spicer said he hoped to get the 2016 number down to 10 or fewer.
Malzberg agreed with the direction the RNC is heading in terms of the debate process, saying that since he believes this is a "conservative country," conservatives should be in charge of the debates. "Bravo to the RNC," he said.
Watch video below, via Newsmax:
[Photo via screengrab]
— —
>> Follow Matt Wilstein (@TheMattWilstein) on Twitter
Have a tip we should know? tips@mediaite.com