S.E. Cupp Blasts Michael Moore Over Guns: Stop 'Intimidating' And Treating Gun Owners Like 'Pariahs'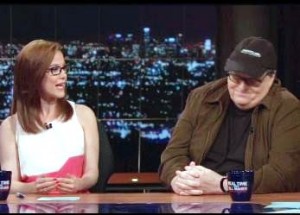 Bill Maher brought up the gun issue again tonight to slam liberals for not being tough enough, but the segment quickly turned into a heated argument between Michael Moore and S.E. Cupp. Cupp defended gun rights to assorted boos from Maher's audience, while Moore repeatedly dismissed her arguments on a gun registry, publishing the personal information of gun owners, and even statistics on school shootings.
Maher pointed to guns as an example of an issue liberals have not fought back muh on, even on something as simple as a gun registry. Moore and Andrew Ross Sorkin agreed with Maher, with Moore quipping that people have to register their cars and dogs and no one's worried about the government coming for their dogs.
RELATED: Maher & Lawrence O'Donnell Get In Shoutfest With GOP Guests: 2nd Amendment Will Not Protect You From Tyranny
Cupp shot back that a gun registry would treat law-abiding citizens as "guilty until they are proven innocent," saying that gun owners do not like the idea the government would just assume getting a gun means they have some kind of criminal intent. She argued that the government should not be "intimidating" people into proving they want a gun for legal reasons, and bashed newspapers for publishing addresses of gun owners "as if they are pariahs."
Moore declared that "if you have a dangerous device that can kill 20 schoolchildren, I want to know where that device is." He mockingly dismissed the Second Amendment as only applying to muskets, while Sorkin asked why concealed carry is so important to gun owners. Cupp pointed to domestic violence and sexual assault as two good reasons for it, and Maher agreed on the idea of having guns in the home.
Moore questioned Maher on why it would be safe for him to wake up groggy and fire at an intruder, but Maher shot back by asking why that wouldn't be preferable to "just getting mowed down." Maher also questioned why gun homicides have gone down as gun control has increased. Moore argued that crime is simply down across the board. When Cupp claimed that the number of mass shootings has decreased in recent years, Moore was stunned and said Cupp is living in a bubble.
Watch the video below:
—–
Follow Josh Feldman on Twitter: @feldmaniac
Have a tip we should know? tips@mediaite.com
Josh Feldman - Senior Editor