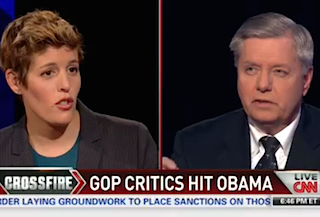 On Monday night, Crossfire host Sally Kohn charged Republicans with "systematically undermining the president" while "in effect hurting America's standing in the world." Thursday, she got the chance to take on one of President Barack Obama's harshest foreign policy critics when Sen. Lindsey Graham (R-SC) came on the show as a guest.
After playing a montage of some of Graham's greatest hits against Obama, Kohn said, "If you disagree with the president substantively, fine, disagree. Dissent is indeed patriotic. But the latest insults against the president not only smack of petty partisan opportunism, it's these baseless insults that is undermining the president's leadership and the our nation's role in the world. Senator Graham, don't you think these petty, personal attacks are beneath your office as a U.S. senator?"
Graham deflected Kohn's question with a self-deprecating joke of sorts before defending his criticism of Obama as "justified." He cited Obama's handling of the Edward Snowden case, the use of chemical weapons in Syria and the attack in Benghazi, Libya as instances of the president "hurting" the U.S. standing in the world. "So, Mr. President, now is the time to change that narrative," he said.
Kohn listed off some of President Obama's foreign policy successes as a counterweight to Graham's examples. "You're not attacking his policy positions, you're calling him weak," she charged. When Graham gave Obama some level of credit for killing Osama bin Laden, Kohn asked him, "don't you think that your rhetoric is what's undermining the United States' role in the world?"
"No, I think I'm being accurate when he does something good and I think his foreign policy's falling apart." Graham shot back. "There are no consequences when you defy what Obama tells you to do and there better start being some or the world's going to be a very dangerous place."
Watch video below, via CNN:
[photo via screengrab]
— —
>> Follow Matt Wilstein (@TheMattWilstein) on Twitter
Have a tip we should know? tips@mediaite.com