Saturday Night Fight: Will Fox Carry The Best Coverage Of The Health Care Vote?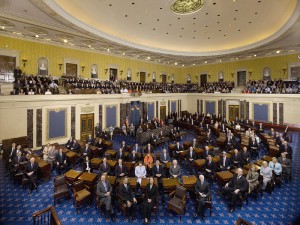 The senators of this great nation have agreed to give up their Saturday to cast the first vote for health care reform with the initial roll call expected around 8 p.m., according to the Associated Press. But that means a full day's worth of legislative festivities with the starting gavel coming at 10 a.m. this morning and no end in sight. But where should those engaged citizens hoping to tune in for coverage of the debate turn? It all depends on your obsession level with the United States Senate, health care reform and of course, CSPAN.
The aforementioned Associated Press report provides a solid recap of where we are up to this point, running down the following facts:
"The vote will determine whether debate can go forward on Majority Leader Harry Reid's 2,074-page bill to dramatically remake the U.S. health care system over the next decade."
"The two [necessary Democrat] holdouts are Sens. Blanche Lincoln of Arkansas and Mary Landrieu of Louisiana."
"After the vote Saturday night, senators will leave for a Thanksgiving recess. Upon their return, assuming Democrats prevail on the vote, they will launch into weeks or more of unpredictable debate on the

health care bill

, with numerous amendments expected from both sides of the aisle and more 60-vote hurdles along the way."
Elsewhere, Brian Beutler is liveblogging the proceedings at Talking Points Memo, while the New York Times will doubtlessly have coverage on The Caucus blog.
But the television front is where things get most interesting, especially when it comes to the cable news wars. Two weeks ago, when the bill passed in the House, Fox News made a valiant and concerted effort to show their newsiness, interrupting pre-recorded programming for live highlights from the House floor, including notable speeches and the final vote. And they were rewarded in the ratings. CNN and MSNBC, meanwhile, both missed Nancy Pelosi's speech, though the MSNBC online video player was streaming coverage all day.
When it comes to all day coverage for the truest obsessives, CSPAN is the only sure bet and no one would dare question it. But with the rest of the networks vying for more, er, entertaining coverage, it will be interesting to see if the other stations will have adjusted their strategy since Fox's domination two weeks prior. You can be sure we'll be watching.
Have a tip we should know? tips@mediaite.com