Sean Hannity To Star Of Ford Bailout Ad: 'Seems Fishy' That The Ad Has Gone Off Air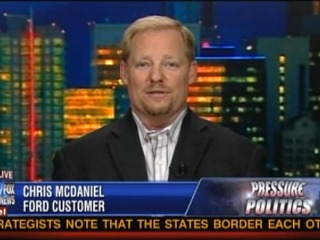 On Wednesday night, Fox News' Sean Hannity reported on the controversy surrounding Ford's much-publicized commercial commenting on the auto industry bailout and on an article from the Detroit News that said the commercial had been pulled by the company following questions from the White House. Ford maintains that the ad was removed from circulation after running for a normal, standard length of time. To comment on this, Hannity brought on none other than Chris McDaniel — the Ford driver who appears in the commercial.
He explained the process behind getting him onto the ad (it turns out he really was surprised by that press conference) and Hannity commended him for his candor in having shared that it was important for him to buy a car from a company that had chosen not accept the government's bailout package.
"Do you think," asked Hannity, "this was pulled for the reasons that some have been writing about? That the Obama administration — which wants to tout their bailout as some success — got angry and got in touch with Ford."
McDaniel shared that he had contacted Ford and asked them directly about what had happened, which is when he was informed that the ad had simply run its cycle. Nonetheless, "it just seems fishy that these other stories are circling around at the same time. You know the old saying: Where there's smoke, there's fire." He added, however, that he applauds Ford for having put the ad on air in the first place.
Later in the segment, McDaniel's frustration is palpable as he asks why it is that those in government can't "pack a lunch" and make cuts while so many Americans are themselves struggling. Hannity responded by asking McDaniel to consider running for president. So. Is this our Joe the Plumber, version 2.0?
Watch the segment, via Fox News:
Have a tip we should know? tips@mediaite.com