Al Franken Breaks Down And Cries On Senate Floor During Violence Against Women Act Speech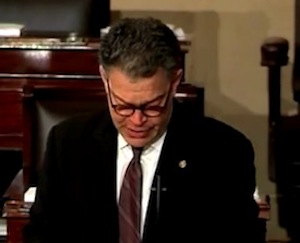 Minnesota Democratic Senator Al Franken burst into tears on the Senate floor Thursday during a speech about the Violence Against Women Act. Franken recalled his friend, former Senator Paul Wellstone, and his family, who had died in a plane crash in 2002.
"The Wellstones' example served as a constant reminder of what public service is all about," Franken said. "It's about helping others. It's about giving a voice to those who otherwise might go unheard. It's about making the law more just and more fair, specially for those who need its protections the most. Frannie and I have a personal responsibility to carry on the Wellstone's legacy. We all do. And you know what? I think that Paul and Sheila would be proud of what we're doing here today."
Franken went on to describe how Paul's wife Shelia Wellstone had volunteered at domestic violence shelters.
"She realized there were a lot of women across the country who needed a voice, who needed someone to speak up for them. Shelia set out to be that person," Franken said.
He quoted a speech she had given about battered women:
I find it intolerable that a woman's home can be the most violent or the most anxious place for her, often the most deadly, and that if she is a mother that it means that that's the same kind of home that her children will be raised in. I've traveled all over Minnesota, talking with people from all parts of the community, and I've talked about myself and them, saying its time that we break these patterns. It's time that we tell the secret, it's time that we all come together to work towards ending the violence.
"Shelia and Paul and their daughter Marcia were tragically taken from us too soon. But Shelia's example is with us, her legacy and her words are with us," said Franken.
Watch Franken break down during his speech on the Senate floor below via C-SPAN2:
(
h/t TPM
)
Have a tip we should know? tips@mediaite.com